The Proverbs 31 woman is a controversial figure.  Some people love her, because she represents so much of what is beautiful.  Some people hate her, because she seems to set an unrealistic standard of womanhood for the rest of us. But what if the Proverbs 31 Woman wasn't a checklist, or a standard for women to measure up to, but something else? What is a Proverbs 31 Woman today?
Looking at the historical context of Proverbs can shed some light on the woman that we find in Proverbs 31.
It turns out that the Proverbs 31 Woman is not a checklist for the perfect wife or the perfect mother.
If we can describe Proverbs 31 as a checklist at all, it is more a checklist for Wisdom generally and for living well, no matter your age, gender, or social standing.
So let's dive more deeply in Proverbs 31 and see if we can answer the question: What is a Proverbs 31 Woman today?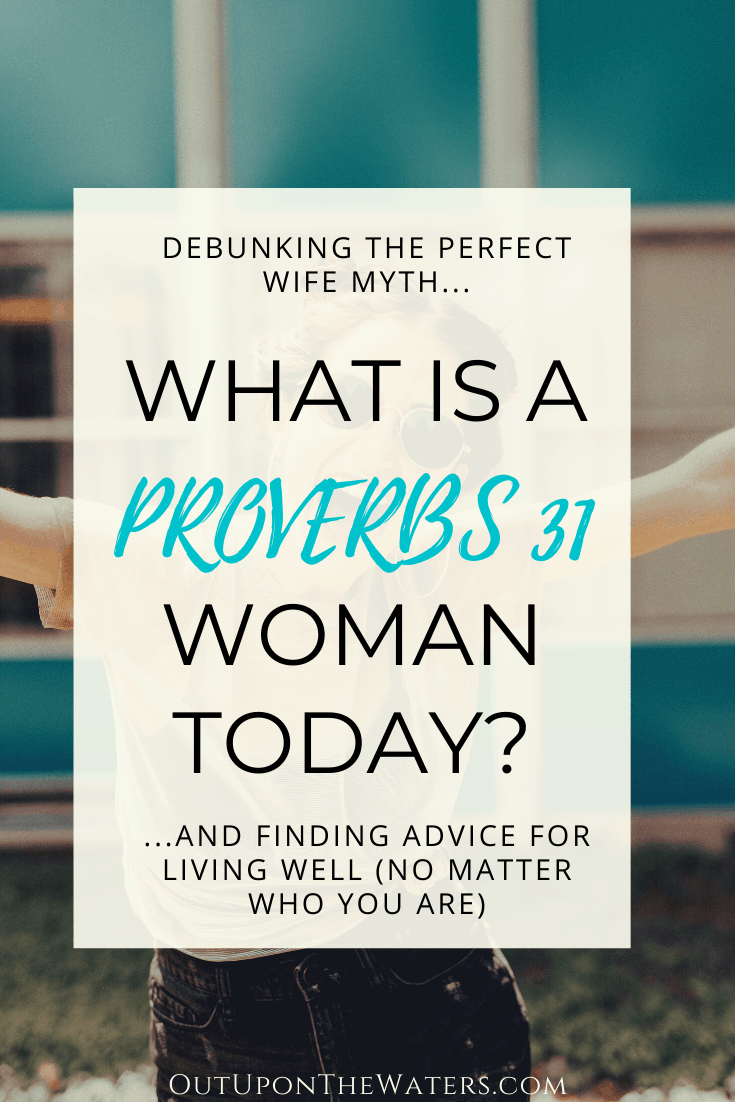 Proverbs 31 Woman Explained
Pete Enns, in The Bible for Normal People podcast, does an amazing job of shedding some light on the book of Proverbs generally, and on the Proverbs 31 Woman specifically.
Examining Proverbs in it's historical context can help us to have the Proverbs 31 Woman explained to us better than just looking at the passage alone (outside of it's context).
The book of Proverbs is a collection of sayings - wisdom intended to be passed down to the next generation.
Most of the Proverbs are the collected sayings of Solomon, David's son.  Proverbs 10-22, and Proverbs 25-29 come from Solomon.
Proverbs 22-24, however, have a different heading - "Words of the Wise" - and look very much like a well-known Egyptian text.  In fact, most scholars agree that these sayings are taken from the Egyptian text, The Teaching of Amenemope.
Proverbs 30 is a collection of sayings of Agur, son of Jakeh.  And Proverbs 31 comes from the sayings of King Lemuel.
All this is to say that there are layers to the Proverbs, written by different people, at different times, which evolved over time.
Most scholars agree that the collection of Proverbs overall was originally intended for young men (probably adolescent age) who were being trained for elite court service and leadership.  These were future rulers.
These came in the form of sayings (e.g. "a wise child is....") and commands (i.e. "you need to do this").
Within Proverbs, we see both Wisdom personified and Folly personified.  The latter is portrayed as a "loose woman", something that would strike an immediate cord with young men.
The overall impression that we get from Proverbs is the importance of resisting folly in any form: in what you say (e.g. 29:11), in how you spend money (e.g. 3:13-14, 21:17)....
All of these little things can add up and make a big difference.
The Proverbs 31 Woman, in this context, is Wisdom personified.
This is the embodiment of what it means to be wise: caring for your family and taking care of 'the little stuff'.
Proverbs 31 is not a checklist of what to look for in a wife.
These adolescent men, who are being groomed for political leadership, are advised to seek Wisdom in all it's forms.  If this is a checklist at all, it might be said to be a checklist for Wisdom generally: we are advised to work hard, to be industrious and creative, to "laugh without fear of the future" (31:25), to be kind to others, to care for the needy....
These are qualities that we want in everyone, not just in wives.  These are qualities that will make life run smoother and be more enjoyable.
We are warned, in Proverbs, to avoid reckless spending on material goods, to avoid speaking hastily in anger...
The Proverbs 31 Woman can be said to be the embodiment of good choices, rather than the reckless chasing of frivolous desires.
Proverbs 31: The Bible Verse
The Proverbs 31 Woman comes from Proverbs 31:10-31.
Here it is in the NIV translation....
10 A wife of noble character who can find?
    She is worth far more than rubies.
11 Her husband has full confidence in her
    and lacks nothing of value.
12 She brings him good, not harm,
    all the days of her life.
13 She selects wool and flax
    and works with eager hands.
14 She is like the merchant ships,
    bringing her food from afar.
15 She gets up while it is still night;
    she provides food for her family
    and portions for her female servants.
16 She considers a field and buys it;
    out of her earnings she plants a vineyard.
17 She sets about her work vigorously;
    her arms are strong for her tasks.
18 She sees that her trading is profitable,
    and her lamp does not go out at night.
19 In her hand she holds the distaff
    and grasps the spindle with her fingers.
20 She opens her arms to the poor
    and extends her hands to the needy.
21 When it snows, she has no fear for her household;
    for all of them are clothed in scarlet.
22 She makes coverings for her bed;
    she is clothed in fine linen and purple.
23 Her husband is respected at the city gate,
    where he takes his seat among the elders of the land.
24 She makes linen garments and sells them,
    and supplies the merchants with sashes.
25 She is clothed with strength and dignity;
    she can laugh at the days to come.
26 She speaks with wisdom,
    and faithful instruction is on her tongue.
27 She watches over the affairs of her household
    and does not eat the bread of idleness.
28 Her children arise and call her blessed;
    her husband also, and he praises her:
29 "Many women do noble things,
    but you surpass them all."
30 Charm is deceptive, and beauty is fleeting;
    but a woman who fears the Lord is to be praised.
31 Honor her for all that her hands have done,
    and let her works bring her praise at the city gate.
What is a Proverbs 31 Woman Today?
Despite Proverbs having been written for the up and coming ruling class, this book has been democratized and is useful for everyone, rather than just a segment of society.
(This is what we should expect, is it not, of God's living Word?)
And so, there are many things that we can get out of Proverbs 31.  The fact that the Proverbs 31 Woman was originally written as Wisdom personified, in fact, makes her fairly universally applicable.
We all want to live well, and living well means living in accordance with wisdom.
So let's take a look at what we could say about the Proverbs 31 Woman today.
This is what Proverbs 31 recommends to us generally. 
(This list is just as important, I think, for men, as it is for women, especially when we consider that this was originally intended as a personification of Wisdom that young men were supposed to pursue.)
trustworthiness, honesty, reliability (31:11-12)
industriousness and creativity (31:13-19)
care for the poor (31:20)
trust in God instead of anxiety over the future (31:25)
thoughtfulness in what we say, rather than speaking quickly and in anger (31:26)
kindness (31:26)
care for a household (31:27-28)
These characteristics are valuable in everyone, from the mother of littles to the political ruler.
They can be contrasted with laziness (6:6-8), material gain at the expense of others (16:8), materialism, (8:10-11), anger (29:11), and unruliness (29:15).
So rather than thinking of the Proverbs 31 Woman today as a standard for wives and mothers to live up to, it is perhaps more fruitful to think of her as Wisdom personified, as an ideal (of which we will all always fall short - and that's okay) that encompasses the qualities that we would want to see in the Kingdom of God, where God himself is sovereign and we are becoming the creatures that we are all intended to be; rather than an earthly kingdom, ruled by earthly concerns.
Proverbs 31 gives us a picture of the things that God cares about, and they are contrasted with the things that the world cares about.  
And this picture, we might suggest, is not to be used as a measuring stick of individual worth, but rather as a promise of what kind of creatures we are slowly becoming if we say "yes" to God and put him and his kingdom first.
That is good advice for future rulers, and for all of us here and now.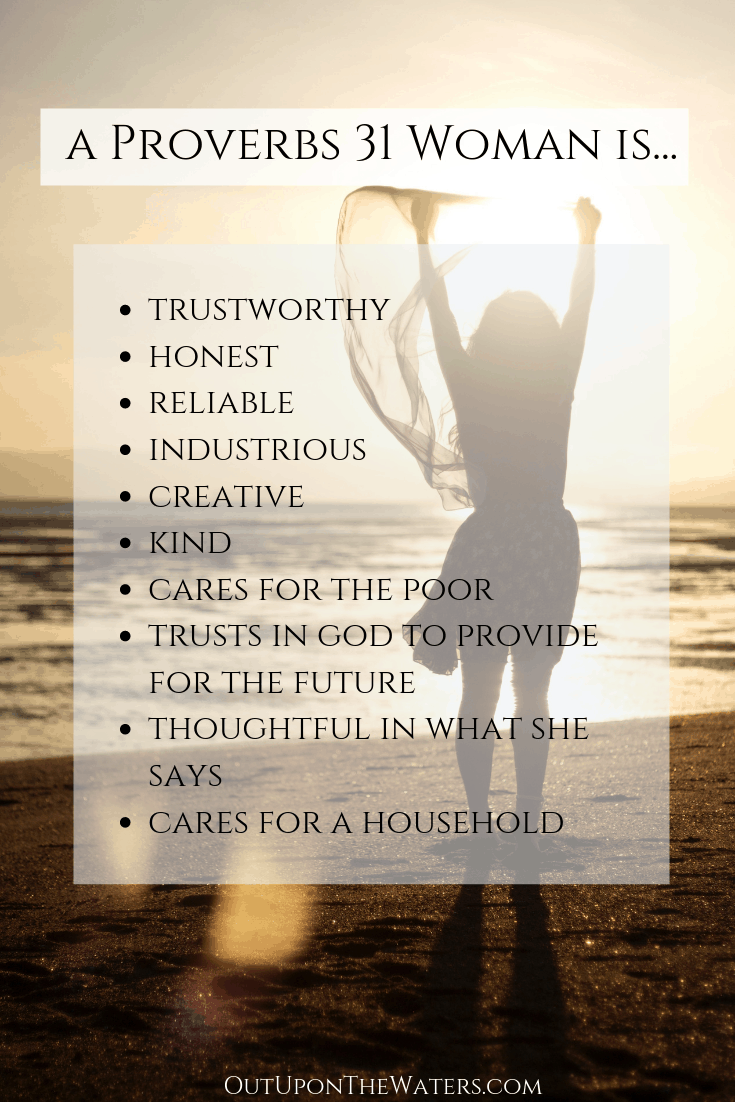 Proverbs 31 Woman Bible Study and Devotions
There are some lovely Proverbs 31 Woman Bible studies and devotions out there.
Here are a few suggestions if you want to delve deeper into Proverbs 31 and start applying the truths that we can find there to your own life.
Becoming the Woman God Wants Me to Be: A 90-Day Guide to Living the Proverbs 31 Life
Donna Partow has a secret for you--you can be a modern Proverbs 31 woman! In Becoming the Woman God Wants Me to Be, Partow gives you inspiration and practical direction to move you closer to that goal with purpose and passion. During this 90-day journey, you will walk the path toward deepening your relationship with God, living out his will for your life, and taking your faith into the world.
Demystifying the Proverbs 31 Woman
In the present day, Proverbs 31 has become a beloved but also misunderstood Scripture passage. Many women look to it for guidance on how to be a better woman, but it must be contextualized in order to be understood and appreciated. Demystifying the Proverbs 31 Woman discusses the passage in terms of language, history, purpose, and application. What shines through is not a prescription for how to become a better wife, mother, woman, or friend, but a description of our Savior, the Church, and ourselves.