Just like Christmas, the true meaning of Easter can get lost in the more  fun (yet trivial) parts of the Easter celebration - you know, the egg hunt, the candy, the cute and fluffy bunnies.  These Easter Bible crafts are great ways to get your kids engaged in the Easter fun while teaching about the true meaning of Easter (Christ's death and resurrection and our promise of joy, transformation, and eternal life).
Disclaimer: this post contains affiliate links, which means that I earn a small commission - at no extra cost to you - if you buy something from these links.  I only promote things we use and love.
These Easter Bible crafts are great for kids of all ages.  Some, like the resurrection set and the pop up Easter scenes, are great for older kids who can sit still for longer and do more detailed crafting.
Others, like the fingerprint cross craft and the woven paper cross, are great for the littles who need simple tasks that can be done quickly.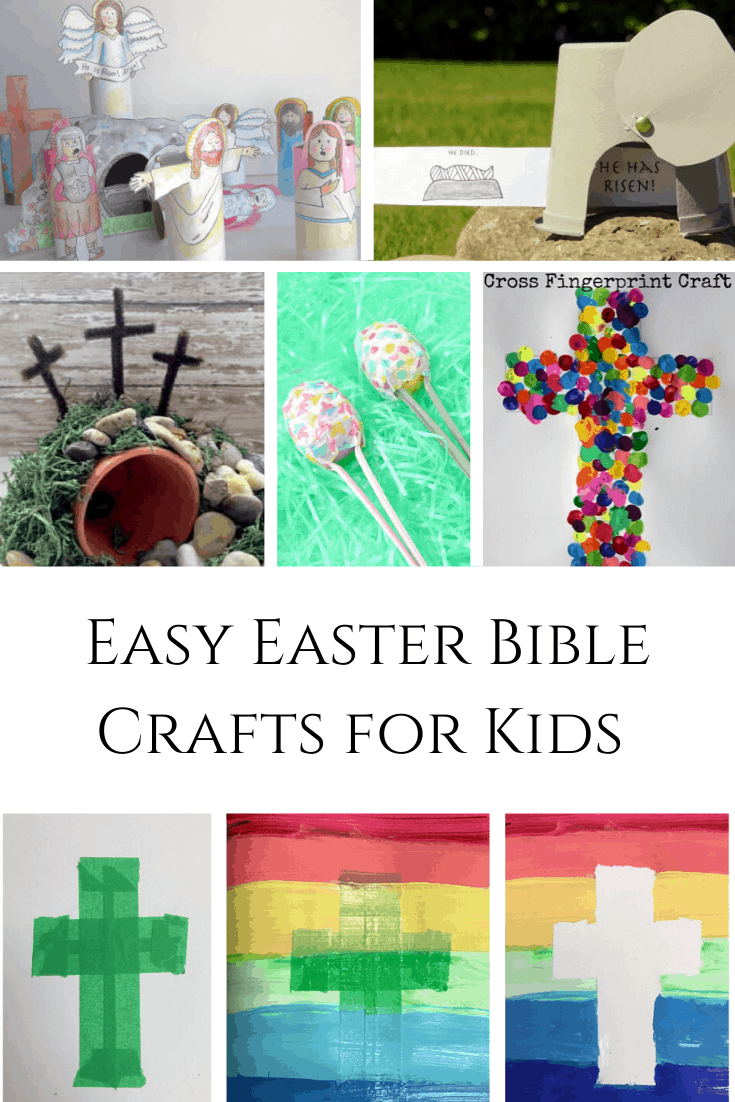 Make a resurrection set - You can use this printable from Catholic Icing to make your own resurrection set out of cardboard tubes for Easter.  (We all have nativity sets - why not resurrection sets?)
Pop Up Easter Scenes - Use these free printables from Amy's Free Ideas to make surprisingly simple pop up Easter scenes: Palm Sunday, the resurrection, the road to Emmaus, and the miraculous catch of fish.  This is a great craft for older kids!
Cross Fingerprint Craft - All you need for this adorable cross fingerprint craft is paint, paper, and some little fingers.
Empty Tomb Centerpiece - This is a cute Easter craft to make with the kids.  Little kids (and big ones) can help gather the rocks.
Easter Egg Maracas - Did you know that eggs are a symbol of Easter because they symbolize new life?  (I didn't know that for a VERY long time!)  These are super simple maracas that will keep the kids busy for hours.
Mosaic Paper Cross - This is a great craft for the little kids, and all you need is paper (in various colours) and some glue (and some scissors to make the mosaic pieces).
Resurrection Eggs - This isn't exactly a craft that you do with the kids, but it is a great DIY Easter idea that pairs perfectly with some crafty DIY Easter baskets (see below).  You can even pick up a free printable to tell the Easter story in your eggs.
Paper Roll Easter Baskets - Use these cute DIY Easter baskets to gather your candy AND your resurrection eggs.  (For a bigger basket, try the printable Easter bunny basket.)  Both baskets from The Craft Train.
Empty Tomb Craft - This empty tomb Easter craft is super cute and easy to make (with some paint and a yogurt container).  A great way to talk to your kids about the true meaning of Easter.
Printable Empty Tomb Craft - This is a simple but enjoyable Easter craft for slightly older kids (kids who like to sit down and colour inside the lines).  Great for Sunday school, or rainy days.  Free printable from Crafting the Word of God.
Tape Resist Cross Craft - This is a super simple Easter Bible craft that you can do with just some paper (or cardstock), paint, and masking tape.  When I ran this in Sunday school, the kids loved it!  (Even the boys who don't like crafting.)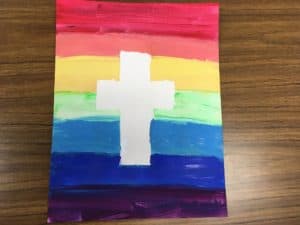 Paper Cross Suncatcher - Another simple Easter cross craft you can do with the kids.  These look gorgeous hanging in the window!
Resurrection Rolls - An edible Easter craft!  Well, sort of a craft.  It's creative, and helps teach the Bible to the littles, and so delicious!  Make these on Easter morning with your kids.
Empty Tomb out of Clay - This is a great Easter Bible craft for the littles and the not-so-littles.  Make an empty tomb out of air dry clay and use it as a centerpiece.
Woven Paper Cross Craft - This is a super simple paper cross that you can make with your kids.  (It's a great craft for preschoolers and other littles.)  All you need is paper, scissors, and glue.