This is a super simple paper cross craft that you can do with the littles.  It's great for Sunday school, Messy Church, Bible study at home, and rainy days.  It's also a great fine motor activity (since the kids have to weave the paper strips through the cross - even I struggled with this sometimes!).
My favourite part of this craft: minimal set up, minimal clean up.
The kids had fun choosing their colours and figuring out how to weave the construction paper through the cross.  [The weaving bit is a great fine motor activity for smaller kids.]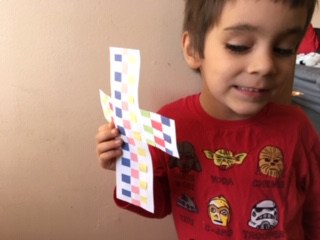 Materials Needed
Paper or cardstock in various colours (cut a cross out of your base colour and strips of paper from the other colours).
Scissors
Glue (to secure the ends)
How to Make a Woven Paper Cross
Cut out your cross from your base colour.  (We used plain white paper).  This is most easily done if you fold your paper in half, to make your cross symmetrical.
Cut out thin strips of paper in your other colours.
Fold your cross in half and cut slits 3/4 of the way through, horizontally.  Do the same for the body and each of the arms of the cross.
Weave your paper strips through the slits you just cut.
Glue the ends of the paper strips to the paper cross, so that it doesn't come apart.
Done!  Woven paper cross.  Hooray!