Do you want to learn how to pray a blessing over your child? Praying a blessing over your children is a great way to speak words of truth and purpose into their lives. It is a great way to store away God's promises in their hearts. And it is a great way to reinforce their identity as children of God. Below you'll find some tips on how to pray a blessing over your child, as well as 44 Biblical blessings to pray over your child. Take these blessings and use them as is, or adapt them to your own unique kids.
But wait…what is a blessing? If you want to go into depth on Biblical blessings, read this first: What is a Blessing in the Bible?
And once you are ready to pray some Biblical blessings over your own kids (or other youth who are important in your life), then read on for examples of spoken blessings and how to pray those truths into your children's lives.
This post contains affiliate links.  Using these links means I may earn a percentage of the purchase at no extra cost to you. As an amazon associate, I receive a percentage of qualifying purchases. View our disclosure policy here.
What is a Spoken Blessing?
One common characteristic of blessings in the Bible is that many of them are spoken.
There are a handful of times when the Bible speaks of blessing as a concrete gift: the blessings of the coming Kingdom, the blessing of a good crop. But the vast majority of the blessings in the Bible are spoken.
God blesses human beings. He blesses the sabbath day. Jesus blesses (consecrates) bread and fish. Aaron and Joshua bless the people.
In Genesis, God imbues creation with the power to accomplish what it was created for; in the story of Jacob and Esau, Jacob steals his brother's blessing (which imparts abundance and success upon him) (Genesis 27); in the Gospel of Luke, Simeon blesses Jesus in the womb, saying "[t]his child is destined to cause the falling and rising of many in Israel…" (Luke 2:34).
Spoken blessings are words that impart power and purpose into someone's life.  They speak truth over someone, and they recognize the work that God is doing in that person.  They declare the truths and promises of Scripture over a person's life.
Words of blessing carry the weight and authority of heaven.  God's blessings are meant to protect us, to guide us on the path of righteousness, and to give us hope.  They remind us of who we are and where we are going.
A spoken blessing, at its most basic level, is a positive, Biblical statement that invokes the blessing of God in the life of another person.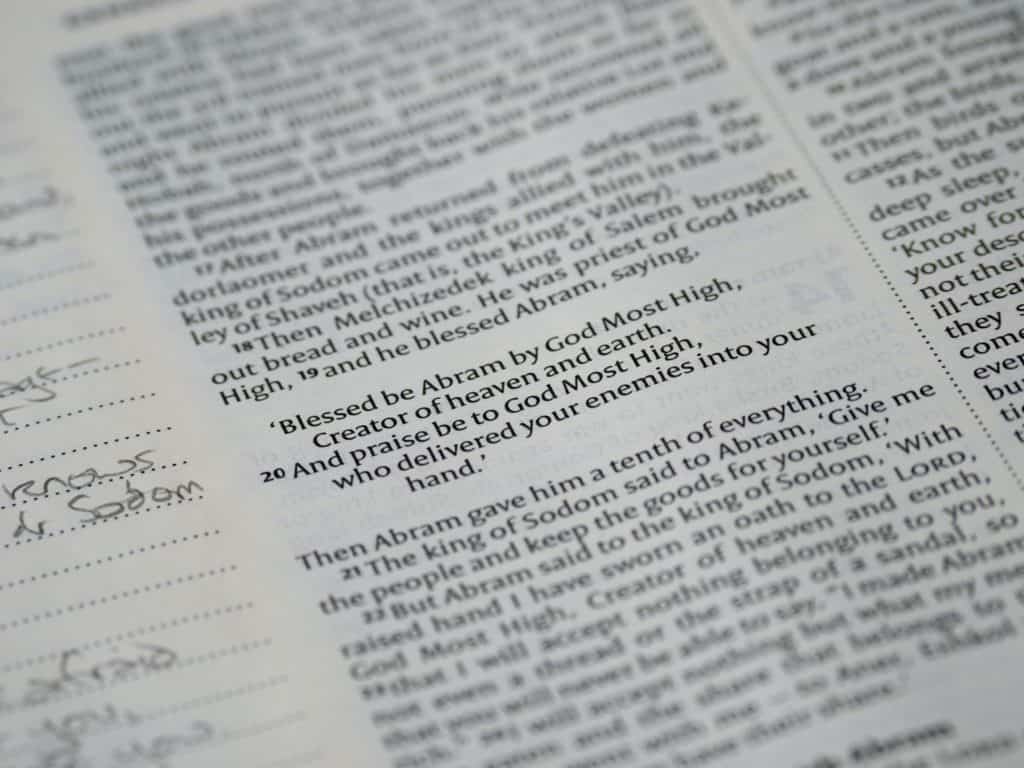 Spoken Blessings in the Bible
We can see an example of a spoken blessing in the Bible when Isaac blessed Jacob.  While the whole story of Jacob stealing Esau's blessing is a complex one deserving of a deeper look elsewhere, here I want to focus on the blessing given from father to son.
At the end of his life, Isaac blesses Jacob by saying:
Ah, the smell of my son
    is like the smell of a field
    that the Lord has blessed.
May God give you heaven's dew
    and earth's richness—
    an abundance of grain and new wine.
May nations serve you
    and peoples bow down to you.
Be lord over your brothers,
    and may the sons of your mother bow down to you.
May those who curse you be cursed
    and those who bless you be blessed.
(Genesis 27:27-29)
Isaac is praying for God's protection, guidance, and blessing over his son's life.  In fact, Jacob will become lord over his brother, and many nations will serve him.  Jacob's descendant become the nation of Israel, with whom God made a covenant for protection, guidance, and the promised land (Genesis 32). While Jacob's life will not be without struggles and difficulties, it will be guided by the hand of God.
When Jacob is at the end of his life, he too blesses his sons, predicting success for some, and struggle and exile for others (Genesis 49).  Crucially, in the story of Jacob blessing his sons, he is bestowing an identity upon them, recognizing qualities within them that will lead to success and blessing or failure.
There are more spoken blessings in the Bible as well. God blesses human beings, animals, and the Sabbath day in Genesis' creation account.
Jesus blesses his disciples; he consecrates bread and fish.
After their victory over their enemies, Joshua blesses the people and sends them on their way (Joshua 22:6). In Leviticus, after offering a sacrifice for sin, Aaron raises his hand and blesses the people (Leviticus 9:22).
In Numbers (6:22-27), God tells Moses and Aaron how, exactly, to bless the people, by speaking these words over them:
"'"The Lord bless you
    and keep you;
the Lord make his face shine on you
    and be gracious to you;
the Lord turn his face toward you
    and give you peace."'
"So they will put my name on the Israelites, and I will bless them."
There is a long history in the Bible of spoken blessings being passed down from fathers to sons, from leaders to their people, from God to his followers.
We can adopt this practice of spoken blessing in our own families, by speaking Biblical truths over our children and reinforcing their identities as beloved children of God. You can learn how to pray a blessing over your child or children and make this a prayerful habit for your family.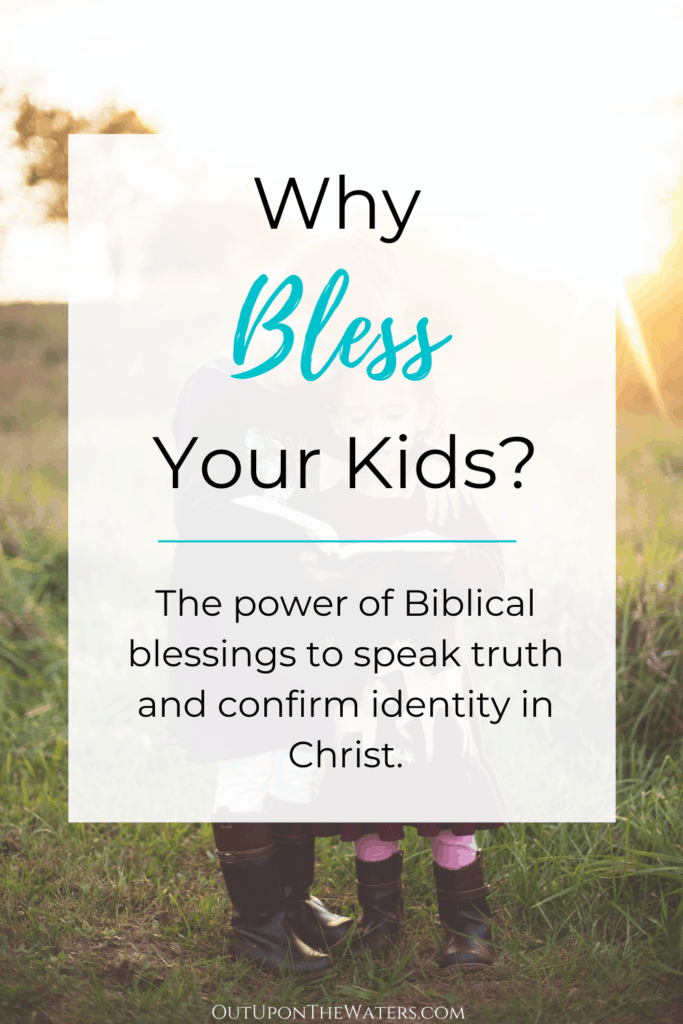 Why Bless Our Kids?
Maybe you're asking yourself, why should I pray over my child?
James 3:1-12 talks about the power of our words. We can use our words to build others up or tear them down.
But the power of our words, and the power of a spoken blessing, goes even beyond the power of affirming or criticizing.  When God created us in his image, he shared the power of the spoken word with us.  Genesis 2 tells us that God gave Adam the power to name all the animals; with his words, Adam gave each creature identity.  We, too, with our words, are able to affirm identity and to speak truth into the lives of others.
This is the power of praying a blessing over your child.
Throughout the whole of Scripture, we are told to pray for one another, to offer supplications, prayers, intercessions, and thanksgiving on behalf of others (1 Timothy 2:1).
Jesus tells us, in John 14:14: "If you ask me anything in my name, I will do it."
Paul, in 1 Timothy 2:8, says "I desire then that in every place the men should pray, lifting holy hands." 
The author of 1 John assures us that "this is the confidence that we have toward him, that if we ask anything according to his will he hears us" (1 John 5:14).
Scripture is very clear that there is power in our words, power in our prayers.  When we pray for others, God hears those prayers.  When we pray God's own words and promises from Scripture back to him, we can be especially confident as we are asking for that which God has already promised to us.
Speaking blessings over our kids, invoking God's help, guidance, protection, and blessing in their lives, also allows us put God's name on them.
Numbers 6:22-27:
The Lord said to Moses, "Tell Aaron and his sons, 'This is how you are to bless the Israelites. Say to them:
 "'"The Lord bless you
    and keep you;
the Lord make his face shine on you
    and be gracious to you;
the Lord turn his face toward you
    and give you peace."'
"So they will put my name on the Israelites, and I will bless them."
In Aaron's blessing the people, he is putting God's name on them.
Now, I don't know about you, but I want God's name written on my kids. I want them to be marked as his.
I also want them to have Biblical blessings and promises stored away in their memory. The more I pray Biblical blessings over my kids, the more these words and blessings will become part of the fabric of their lives.
Leanne Cabral, in her book on passing faith on to our kids, says that "We need to bless our kids because it is a way that we as parents can stand between them and the kingdom of darkness."
Blessing our kids marks them as God's own, it speaks words of truth and purpose into their lives, it builds them up, and it gives them God's promises to rely on.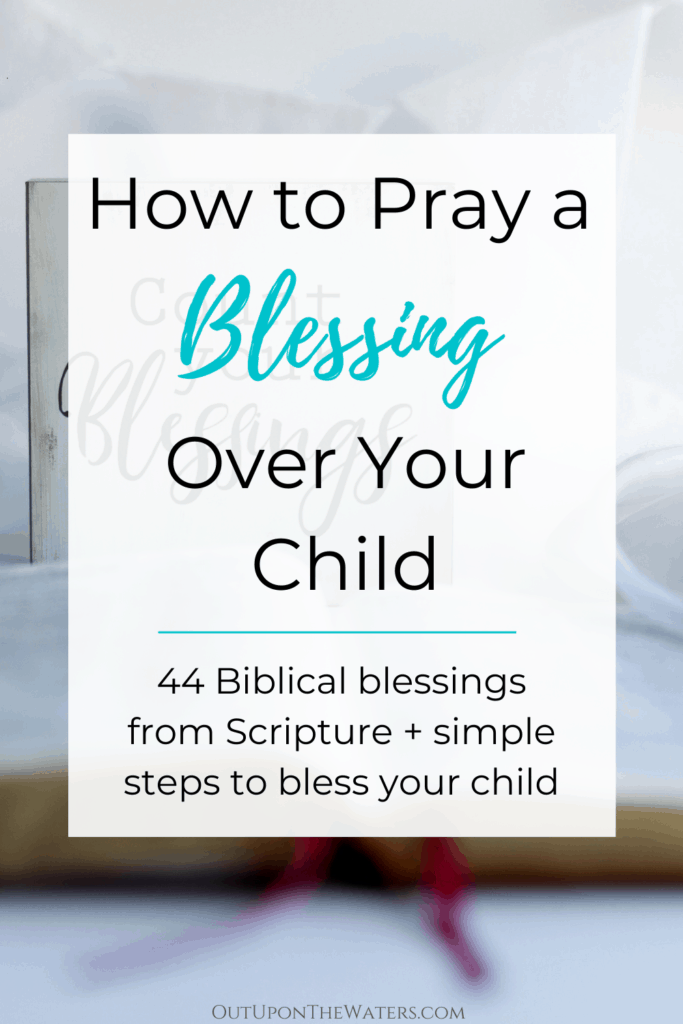 How to Pray a Blessing Over Your Child
Praying a blessing over your child may feel awkward at first, especially if you are not already in the habit of praying Biblical blessings. But if you persist in your prayers, then a blessing prayer will eventually become a normal part of your (and your children's) everyday life.
First, although we might speak of "praying a blessing" or "prayers of blessing", it's important to note that a blessing is something a little bit different than a prayer.  Blessings can include an element of prayer, but the two things are not the same.  In prayer, you are asking God for something.  You can close your eyes, bow your head, and ask God to bless someone, for example.  But in actually blessing your children, you are not asking God for something.  Rather, you are declaring words of truth over them.
You'll find that the blessings you pray over your child are not prayers that ask God for something; rather, they assert something true about your child.
In prayer, you are talking to God; you are praising him, expressing gratitude, asking for something, or maybe just telling him about your day.
In a blessing, you are declaring words of Scripture to be true about your child. Rather than talking to God, you are agreeing with him about your child.
Leanne Cabral says of blessing: You are verbally agreeing with Heaven about the truth over your child's identity and purpose.
How to Pray a Blessing Over Your Child: The Basics
Want to know how to pray a blessing over your child?
Biblical blessings are really quite simple. The easiest way to pray a blessing over your child is to simply speak God's words over them daily.
To pray a blessing over your child, follow these simple steps:
Choose a piece of Scripture.
Modify it, if you'd like: add your child's name; change "I" to "you"; add "may you".
Speak your chosen piece of Scripture over your child (at bedtime, for example.) Lay a hand on their back or shoulder to add a meaningful touch ('laying on of hands' is often used in the Bible to confer authority or responsibility – see Acts 13:3, Acts 6:5-6).
Some examples:
Lilly, may the Lord bless you and keep you, may He make his face shine upon you and be gracious to you, may He turn his face toward you and give you peace. (Numbers 6:24-26)
Joshua, may you grow in the grace and knowledge of our Lord and Savior Jesus Christ. (2 Peter 3:18)
While you can modify verses of Scripture by adding your child's name, or changing the wording slightly, you can also choose to simply recite the Bible verse as it is over your child.
To start praying a blessing over your own children, prayerfully ask God to help you select some pieces of Scripture. Below are some general blessings to pray over your child to get you started.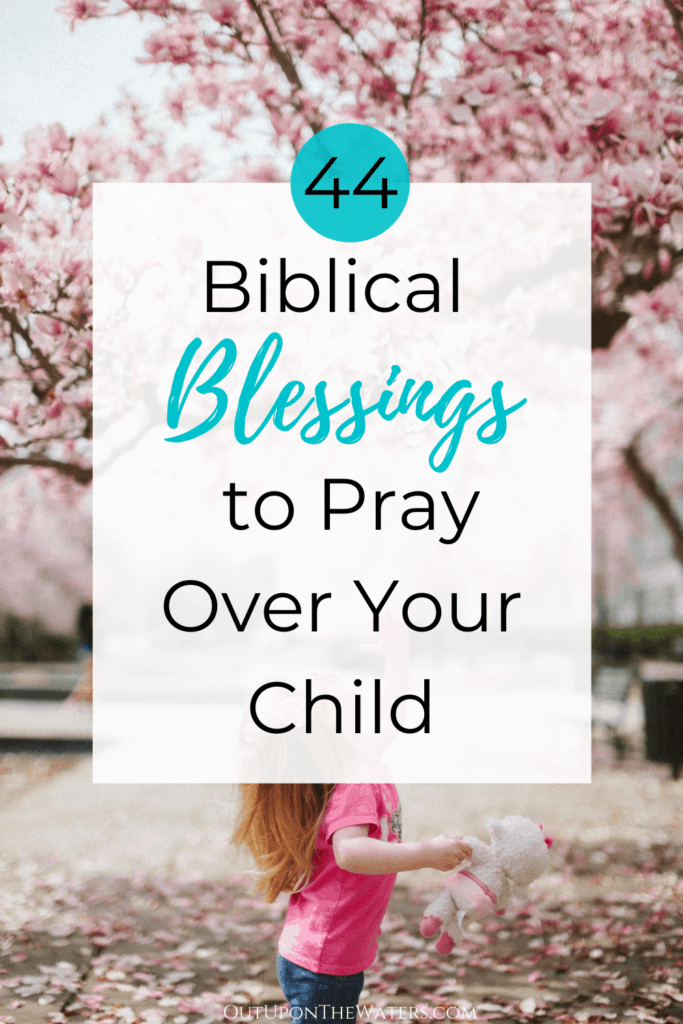 44 Biblical Blessings to Pray Over Your Child
Here are 44 general blessings from Scripture to pray over your child.
Blessing
Numbers 6:24-26: "The Lord bless you and keep you, the Lord make his face shine upon you and be gracious to you, the Lord turn his face toward you and give you peace."
Justice
Micah 6:8: "[May you] act justly, love mercy, and walk humbly with your God."
Faith
Acts 16:31: "Believe in the Lord Jesus, and you will be saved – you and your household."
Jeremiah 17:7-8: "But blessed is the one who trusts in the Lord,
    whose confidence is in him.
They will be like a tree planted by the water
    that sends out its roots by the stream.
It does not fear when heat comes;
    its leaves are always green.
It has no worries in a year of drought
    and never fails to bear fruit."
Ephesians 3:17-19: "[May Christ] dwell in your hearts through faith. And I pray that you, being rooted and established in love, may have power, together with all the Lord's holy people, to grasp how wide and long and high and deep is the love of Christ, and to know this love that surpasses knowledge—that you may be filled to the measure of all the fullness of God."
Deuteronomy 4:9: "Only be careful, and watch yourselves closely so that you do not forget the things your eyes have seen or let them fade from your heart as long as you live. Teach them to your children and to their children after them."
Wisdom
James 1:5: "If any of you lacks wisdom, let him ask God, who gives generously to all without reproach, and it will be given him."
2 Peter 3:18: "But grow in the grace and knowledge of our Lord and Savior Jesus Christ."
Hope
Romans 15:13: "May the God of hope fill you with all joy and peace in believing, so that by the power of the Holy Spirit you may abound in hope." 
Courage
Joshua 1:9: "Be strong and courageous. Do not be afraid, do not be discouraged, for the Lord your God will be with you wherever you go."
Isaiah 41:10: "So do not fear, for I am with you [says the Lord]; do not be dismayed, for I am your God. I will strengthen you and help you; I will uphold you with my righteous right hand. "
Contentment
Hebrews 13:5: "Keep your life free from love of money, and be content with what you have, for he has said, "I will never leave you nor forsake you."
Peace
Philippians 4:6 "Do not be anxious about anything, but in everything by prayer and supplication with thanksgiving let your requests be made known to God."
Philippians 4:7: "And the peace of God, which transcends all understanding, will guard your hearts and your minds in Christ Jesus."
Do Not Worry
Luke 12:22-26: "Do not worry about your life, what you will eat; or about your body, what you will wear. For life is more than food, and the body more than clothes. Consider the ravens: They do not sow or reap, they have no storeroom or barn; yet God feeds them. And how much more valuable you are than birds! Who of you by worrying can add a single hour to your life? Since you cannot do this very little thing, why do you worry about the rest?"
Provision
Philippians 4:19: "And my God will supply every need of yours according to his riches in glory in Christ Jesus."
Matthew 6:30-33: "If that is how God clothes the grass of the field, which is here today and tomorrow is thrown into the fire, will he not much more clothe you-you of little faith? So do not worry, saying, 'What shall we eat?' or 'What shall we drink?' or 'What shall we wear?' For the pagans run after all these things, and your heavenly Father knows that you need them. But seek first his kingdom and his righteousness, and all these things will be given to you as well."
Direction
Proverbs 3:5-6: "Trust in the Lord with all your heart, and do not lean on your own understanding. In all your ways acknowledge him, and he will make straight your paths."
Proverbs 16:3: "Commit to the Lord whatever you do, and he will establish your plans."
Psalm 23:1-2:  "The Lord is my shepherd, I lack nothing.
He makes me lie down in green pastures,
he leads me beside quiet waters."
Jeremiah 6:16: "This is what the Lord says:
"Stand at the crossroads and look;
    ask for the ancient paths,
ask where the good way is, and walk in it,
    and you will find rest for your souls.
    But you said, 'We will not walk in it.'"
1 Peter 2:17: "Show proper respect to everyone, love the family of believers, fear God, honor the emperor."
Deuteronomy 13:4: "May you walk after him, and fear him and keep his commandments and obey his voice. May you serve him and hold fast to him."
Protection
Psalm 91:1-2: "He who dwells in the shelter of the Most High will abide in the shadow of the Almighty. I will say to the Lord, "My refuge and my fortress, my God, in whom I trust."
Psalm 121:5-6: "The Lord watches over you—
    the Lord is your shade at your right hand;
the sun will not harm you by day,
    nor the moon by night."
Psalm 25:21: "May integrity and uprightness protect me, because my hope, LORD, is in you."
Joy
Psalm 16:11: "You make known to me the path of life; in your presence there is fullness of joy; at your right hand are pleasures forevermore."
Light of the World
Matthew 5:14,16: "You are the light of the world.  A town built on a hill cannot be hidden.  In the same way, let your light shine before others, that they may see your good deeds and glorify your Father in heaven."
Good Work
Ephesians 2:10: "For we are God's handiwork, created in Christ Jesus to do good works, which God prepared in advance for us to do."
Humility
Philippians 2:3-4: "Don't be selfish; don't try to impress others. Be humble, thinking of others as better than yourselves. Don't look out only for your own interests, but take an interest in others, too." 
Gratitude
Thessalonians 5:16-18: "Rejoice always, pray continually, give thanks in all circumstances; for this is God's will for you in Christ Jesus."
The Pattern of this World
Romans 12:2: "Do not conform to the pattern of this world, but be transformed by the renewing of your mind."
Kindness
Ephesians 4:32: "Be kind and compassionate to one another, forgiving each other, just as in Christ God forgave you."
Fruit of the Spirit
Ephesians 6:14: "Stand firm then, with the belt of truth buckled around your waist, with the breastplate of righteousness in place."
2 Timothy 1:7: "For the Spirit God gave us does not make us timid, but gives us power, love and self-discipline."
Restful Sleep
Proverbs 3:24: "When you lie down, you will not be afraid; when you lie down, your sleep will be sweet."
Children of God
Galatians 3:26: "For in Christ Jesus you are all sons of God, through faith."
1 John 3:1: "See what kind of love the Father has given to us, that we should be called children of God; and so we are."
Romans 8:14: "For all who are led by the Spirit of God are sons of God."
2 Corinthians 6:18: "And I will be a father to you, and you shall be sons and daughters to me, says the Lord Almighty."
Ephesians 5:1: "Follow God's example, therefore, as dearly loved children."
God's Plans
Romans 8:28: "And we know that in all things God works for the good of those who love him, who have been called according to his purpose."
Jeremiah 29:11: "For I know the plans I have for you," declares the Lord, "plans to prosper you and not to harm you, plans to give you hope and a future."
The Two Greatest Commandments
Matthew 22:37, 39: "Love the Lord your God with all your heart and with all your soul and with all your mind…And love your neighbour as yourself."
---
For more ideas on how to bless your family through all their ages and stages, check out Terry and Melissa Bone's The Family Blessing Guidebook.