Developing a daily quiet time routine is one of the most important things that you can do to cultivate your own spiritual life and your spiritual growth. Learning to withdraw from the busyness of life and spend a few moments alone with God each day will help to attune your heart and your mind to God's own voice and his rhythms. These 4 tips will help you to develop your own daily quiet time with God routine and make regular Bible study and prayer a habit.
If you aren't already in the habit of having daily quiet time with God, there are a few things that you can do to develop this routine and make it a life-giving habit that draws you closer to God.
As an Amazon affiliate, I earn a small commission, at no extra cost to you, from qualifying purchases. I only recommend products that I love. See our full affiliate disclaimer here.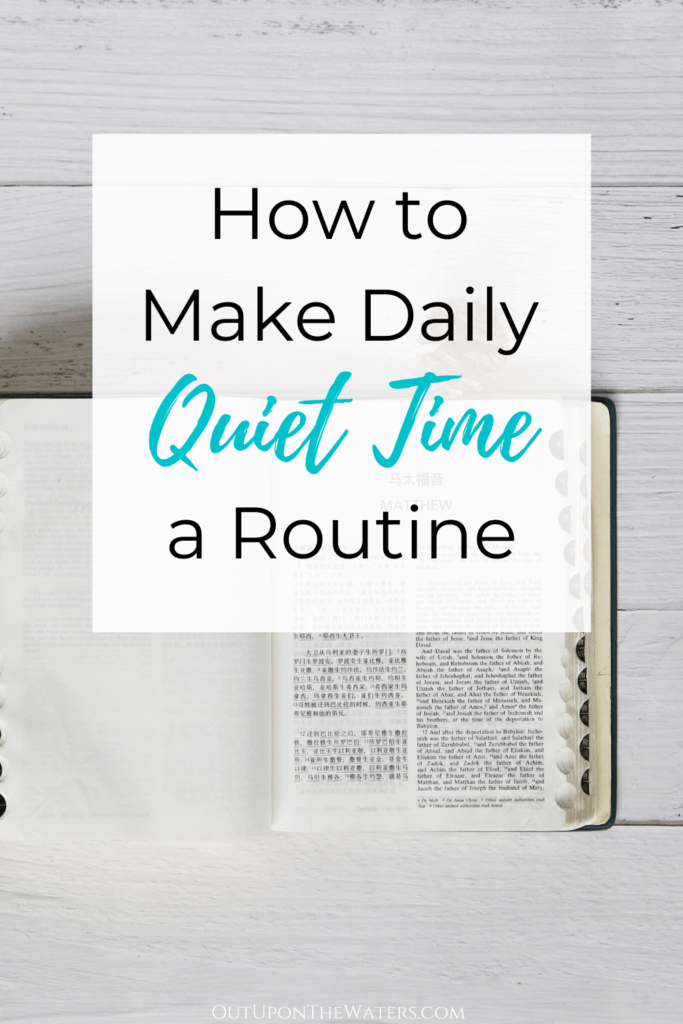 The fact is that making the time in your busy schedule to spend some time with God can have tremendous results in your life.
In the Gospel of John, Jesus calls us to abide in Him, to find rest and spend time with Him, in order to remain connected to the vine and to bear fruit.
Without this connection, we will whither like a flower cut from it's roots.
I am the vine; you are the branches.
If you remain in me and I in you, you will bear much fruit; apart from me you can do nothing. 
If you do not remain in me, you are like a branch that is thrown away and withers; such branches are picked up, thrown into the fire and burned.
If you remain in me and my words remain in you, ask whatever you wish, and it will be done for you. 
This is to my Father's glory, that you bear much fruit, showing yourselves to be my disciples. – John 15:5-8
Creating space for daily quiet time is a good way to remain in Christ….
What is "Quiet Time" with God?
"Quiet time", if you're unfamiliar with the term, is basically Christian-speak for time spent alone with God. Typically, that looks like Bible study and prayer.
Christian "quiet time" is simply being intentional about having a conversation with God.
We have good Biblical precedent for withdrawing from our own responsibilities on a regular basis and spending time alone with God.
Mark 1:35 tells us that "Very early in the morning, while it was still dark, Jesus got up, left the house and went off to a solitary place, where he prayed."
Jesus was in the habit of withdrawing on a regular basis to pray. Amidst all of the miracles, the teaching, the healing, and the flipping tables, Jesus took time to withdraw from the busyness of life and spend some time alone with his Father.
If Jesus needed this time to withdraw and pray, then we can assume that we need it just as much, if not even more so.
Taking time to withdraw from the rest of our responsibilities and spend some time alone with God helps us to recharge our batteries, get familiar with God's voice and his story, and get into the habit of bringing everything to God in prayer.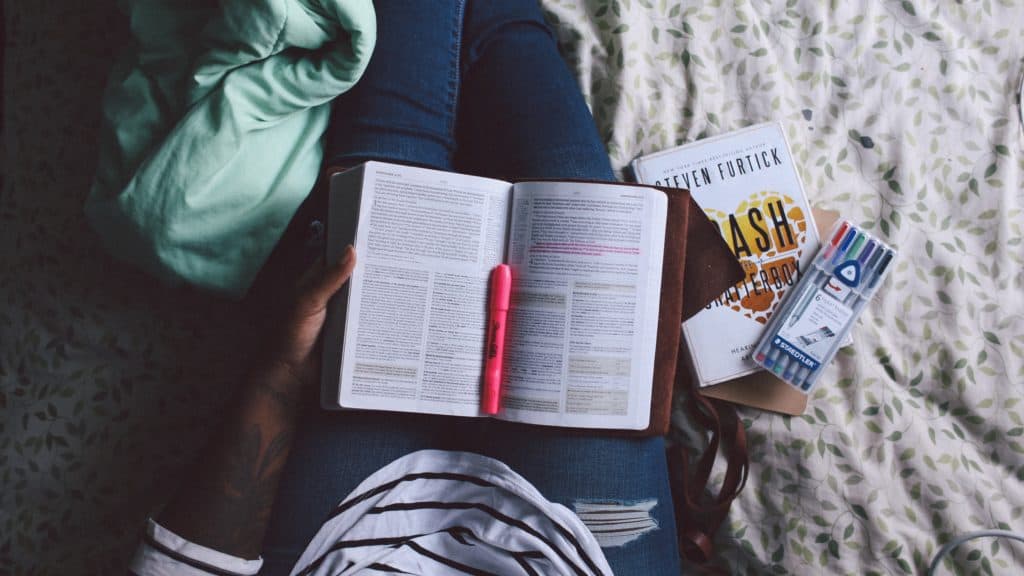 Benefits of Quiet Time with God
I cannot overstate the benefits of having a regular quiet time with God.
Perhaps the biggest reason to make quiet time a priority in your life is that withdrawing from the busyness of our everyday lives and spending time in Bible study and prayer helps us to hear God's voice more clearly.
Even among committed churchgoers, the percentage of Christians who read their Bible on a daily basis is less than 20%.
That means that less than 20% of us are daily entering into God's story, learning from the people who've gone before us, and encountering all of the promises and the instructions that God gave to us through his Word.
When we take the time to withdraw from the busyness of our lives and spend some committed time in Bible study and prayer, we can see some remarkable benefits in our daily lives.
We can hear God's voice more clearly.
Consider this: if we are asking God questions and trying to hear answers to prayer and receive guidance in our daily lives, Scripture is the most reliable place we can find such things. That is because God has already given us answers to plenty of questions. He has already given us instructions on how to live, on what's most important, on how we should interact with each other, on what we should and shouldn't worry about.
If Scripture is God's Word, and if it is alive and speaks into our lives today, then the more we familiarize ourselves with it, the more clearly we will be able to hear God's voice because we have that voice and his words held within our minds and our hearts.
We become familiar with God's story: with the story of our own rebellion and salvation, with God's great rescue mission for humanity, and with his promises for our lives.
We learn from the behaviour and the stories of others.
We gain stories and lessons that help us to navigate our own lives.
I cannot tell you how many times I have encountered a situation in my life and gained insight from one of the Bible stories from someone who has gone through this before me: Mary and Martha, and Elijah in the desert, come immediately to mind.
God has given us a collection of stories of people who have gone through successes and failures, through loss, through oppression, through unexpected victory, through rivalry and competition, through the overwhelm of trying to keep the perfect home…. He has given us models and advice to follow. Those stories can become the road maps by which we navigate our own lives.
We learn to quiet our own minds.
We learn to lift all things up to God in prayer.
We learn truth.
We learn God's love for us.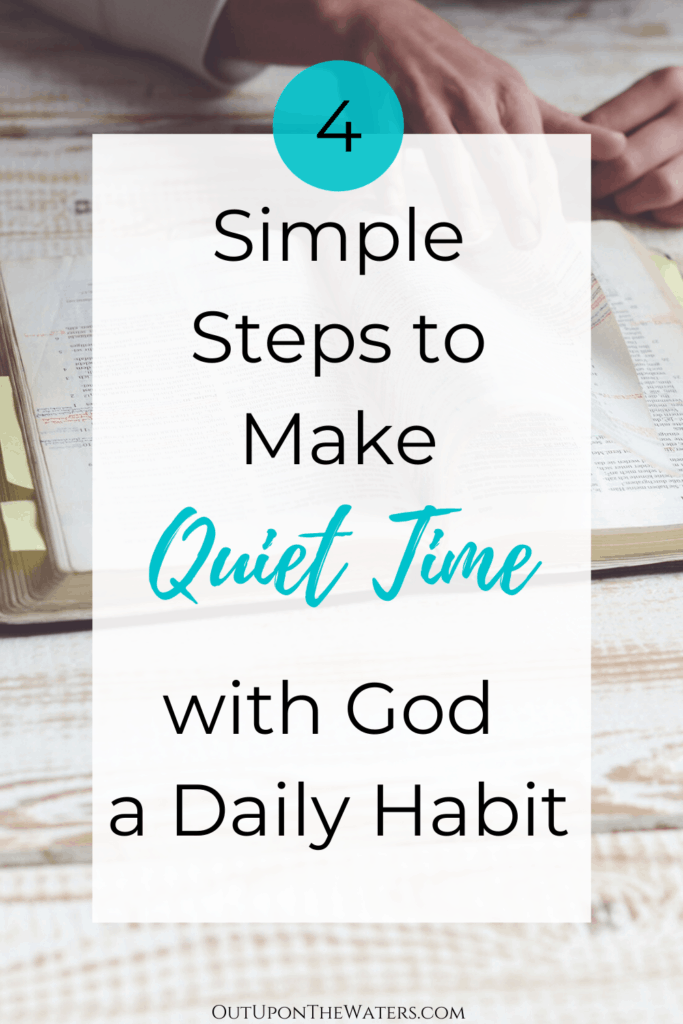 How to Make Quiet Time with God a Daily Routine
Turning quiet time with God into a regular routine will be so much easier if you follow a few basic steps:
Pick a time that works for you.
Commit to a regular time spent with God (but don't over-commit).
Make a plan.
Get the right tools.
1. Pick a time that works for your schedule.
I have recently discovered that I love getting up an hour before my kids and having coffee with God, so to speak. I spend at least 20 minutes of that hour in Bible study and prayer, and I find that it makes all the difference to my day.
Now early morning won't work for everyone. While starting your day off with quiet time spent with God will get your day going on the right foot, taking time in the morning simply may not work for you at this stage of your life.
What is most crucial for making quiet time a daily habit is that you pick a time that works with your schedule.
That might be at 6:30 am, before the kids wake up, or it might be at mid-day over lunch, or it might be before bed.
If you are not sure where daily quiet time could fit into your schedule, here are some ideas that you might like to try out:
in the morning before the kids wake up (set your alarm clock 15 minutes earlier than usual)
before going to bed at night
over breakfast (invite the family to join you)
for 10 minutes after supper
during lunch, or for 10 minutes after lunch
while the kids are napping/playing games/doing homework/watching TV/having quiet time
at the park
while the kids are playing in the backyard
while washing dishes (get yourself an app, or an audio Bible)
while going for a walk (again: audio Bible)
on a break at work
in the car on the way to work (audio Bible to the rescue)
There are so many little chunks of time that you can turn into devotional time and quiet time with God!
You don't even need a full 20 minutes. Even 5 or 10 minutes a day will get you through the entire New Testament in 6 months or less!
2. Don't over-commit.
This one is really important. Over-commitment leads to exhaustion and burnout.
If you are not already used to spending quiet time with God, and if you are not someone who has a lot of time to spare, then don't try to commit to an hour (or even half an hour) each day in Bible study and prayer.
Start with 5 minutes. You can do a lot with 5 minutes if you are consistently spending 5 minutes every day in your Bible and in prayer.
Better yet, start with 10 or 15 minutes.
Start with a block of time that works for you. Don't worry if it's short. Short blocks of time can add up to significant time spent God.
If you over-commit, you are likely to burn out and drop your daily quiet time habit altogether. A little bit of time consistently spent with God is better than too much time that burns out into no time at all.
3. Have a plan.
Deciding that you are going to have a daily quiet time with God is one thing. Figuring out what that daily quiet time looks like is something completely different.
You don't want to go into your daily quiet time without a plan. Sure, you know that quiet time typically involves Bible study and prayer. You want to talk to God. You want to listen to what he has to say. You want to begin to attune your heart and your mind to his voice.
But how do you do that in a structured, easy-to-follow, and sustainable way?
Here is a super simple way to structure your quiet time with God:
Take a few moments at the beginning to quiet your mind. Put down your phone. Turn off any distractions. Take 3 deep breaths.
Find and read your Bible passage for the day. This can be a passage of Scripture or a page of a devotional. While it is crucial to read Scripture and get familiar with God's stories, interspersing Scripture reading with devotionals will enrich your quiet time and give you other perspectives on God's stories. Devotionals often contain insight that we would not arrive at on our own.
Record anything that stands out to you, any questions that arise as you read the passage, any insight that you glean, and how you might apply this to your own life. For a quick method on reading and reflecting on Scripture, check out my 5 Minute Bible Study Method.
Pray. Talk to God about the passage. Ask him for insight. Praise him for who he is and what he's done. Ask him to help you implement what you've learned into your own life. Confess any sins that the passage might call your attention to. Pray for other people in your life.
4. Find the right resources.
Having the right tools at your disposal will make all the difference in turning your daily quiet time into a habit that you can sustain.
Keep a prayer journal. A prayer journal is simply a little notebook that you use to keep track to your prayers.
A prayer journal can be something as simple as a plain notebook that you pick up from the dollar store, or the craft store, or whatever you have lying around your house.
In your prayer journal, you can write letters to God (think of regular journaling but start each entry with Dear God…), you can record names of people you want to pray for, you can doodle your prayers.…
For basics on keeping a prayer journal and some creative ideas if you're struggling with what to write, check out my How to Keep a Simple Prayer Journal tutorial.
Use a journaling Bible. A journal Bible is honestly one of my favourite tools for Bible study and spending quiet time with God.
Many people use a journaling Bible to create gorgeous works of art based on Scripture.
I have zero artistic skills. (I can crochet like a pro, but I cannot paint or draw to save my life.) And that's okay. What I love about my journal Bible is that is has space in the margins to record observations.
When you write notes in a journal Bible, then you have little reminders and snippets of insight every time that you return to a passage.
No rummaging through a notebook to find some insight that you recorded days or months or years ago. You have your little notes, insights, and lessons from each Bible story right next to the story. Brilliant!
This is my favourite journal Bible.
Get a study Bible. A study Bible is simply a Bible with a ton of useful notes, essays, and explanations on just about any topic you can imagine.
My #1 favourite study Bible right now is the Cultural Backgrounds Study Bible because it goes into depth about the historical and cultural context of the stories in Scripture. I have found that I have learned so much about Jesus' original audience, about the cultural expectations and assumptions at the time, and what Jesus' teaching would have meant to people hearing it in the first century.
The Life Application Study Bible is another excellent study Bible that is packed full of timelines, maps, cultural context, overviews, and explanations of key themes.
A study Bible helps you to dive deeper into the Bible and to not depend solely on your own understanding.
Find a commentary. Finding a commentary or a devotional that you really like can make a world of difference in your quiet time.
I use this Bible in One Year commentary, and while it has taken me more than a year to go through the entire Bible with this commentary, it has proven immensely helpful. This particular commentary has notes on every single part of the Bible, and it contains insight that I never would have arrived at on my own.
Finding a commentary that you like means that you will have a guide to walk with you through Scripture. Getting another person's insight into the stories and lessons in the Bible can help to widen and deepen your understanding of Scripture and how it applies to your life.
Try a different translation. The translation of the text can make all the difference when you are reading your Bible daily. While every translation is true to the original text, each will communicate Biblical truth in slightly different language.
The King James version, for example, is great for people who like language with a lot of flourish. But if all the "thee's" and the "thou's" trip you up, then you might want to try the NIV, the NLT, or The Message.
If you have kids that you are trying to encourage to read the Bible, we've found that the NIrV is great for younger readers!