What does the Bible say about trusting God? When we explore Bible verses about trusting God, we discover a few central themes:
trusting God in difficult times
trusting God to lead you
trusting God in all circumstances
God tells us to trust him to provide for us, to lead us, and to make all this right in the end. This is why we can trust God in all circumstances: because even in difficult times, God promises the hope of salvation and restoration. We can trust that God will work all things together for our good (Romans 8:28) and that he will, in the end, wipe away every tear and restore everything that is broken (Revelation 21:4).
Why does God want us to trust?
When we look at what the Bible says about trusting God, we discover that God wants us to trust him instead of trusting in ourselves, other people, or worldly circumstances.
Trusting God reinforces his sovereignty in our lives, and it gives us a firm foundation. Placing our trust in worldly things a paycheck, our career, or even our own skill set, means that we are trusting in things that don't last. Trusting in God gives us a firm foundation. Hebrews 13:8 tells us that "Jesus Christ is the same yesterday and today and forever." This is true of God the Father and the Holy Spirit as well. God doesn't change. He is trustworthy, and he is eternal. In Matthew 7:24-27, Jesus tells the parable of the wise and foolish builders. The foolish builder builds his house on sand, and when a storm comes, the entire house falls because the foundation was unstable. Trust God by building your life on a foundation of his word, and a relationship with him.
By trusting God to lead us, to help us in times of trouble, and to walk with us through our lives, we are saying that it is him that we trust above all other things. God wants us to rely on him because he created the whole universe: he knows how it works best; he knows what he's doing; and he knows how it all ends.
What happens when you trust God?
It's important to note that trusting God doesn't necessarily lead to material comfort. Although the Bible tells us that God hears us when we ask for things, that God works all things together for our good, and that God provides for our needs, this doesn't mean that we won't face struggles, difficulties, and losses. What it does mean is that God promises that everything will be made right in the end, and that everything that is broken will be restored.
Take Isaiah 43:2, for example. There, God says that "When you pass through the waters, I will be with you…. When you walk through the fire, you will not be burned." He doesn't say "if"; he says "when". We can expect to have to pass through fire, and to pass through water that we fear might drown us. But God promises us that he will not forsake us; he will be with us.
When you trust God, you know that any present suffering that you are going through will eventually end, and that any brokenness will be restored in the end.
When you trust God, it is also easier to deal with uncertainty. Trusting that God has a plan and that he will lead you, means that you do not have to worry about every choice that you have to make and every challenge that comes your way. This is way Jesus tells us, as well, in Matthew 6:25: Don't worry. God will lead you. God will provide. Trusting God gives you a firm foundation when the waters start to rise: "the Lord God is an everlasting rock" (Isaiah 26:4).
What does Jesus say about trusting God?
In Mark 5:21-43, we encounter a story of Jesus healing Jairus' daughter. Jairus, one of the synagogue leaders, comes to find Jesus because his daughter is sick and dying. Before Jesus arrives at Jairus' house, some people come to them and tell Jairus that his daughter has died. "By bother the teacher anymore?" they ask.
Jesus responds by saying, "Don't be afraid; just believe." In others words, Jesus tells Jairus: "Trust me."
When it comes to trusting God, Jesus has a few things to say: First, trust God to provide for your needs. We see this in Matthew 6, 25 and 26. God cares for you; he will provide for you. Second, trust Jesus: believe in him; trust him. In the story of Jairus' daughter, Jesus implies that we should trust him to make things right, and trust him to defeat even death itself.
In John 10:10, Jesus assures his hearers that he comes to give them life. We should trust Jesus with our lives, and we should trust him to give us life, and to give it abundantly.
In John 14:1, Jesus tells his hearers to believe in God, and believe also in him. Here, Jesus is making a connection between the identity of God the Father and himself. In retrospect, we know this is because Jesus not only fulfills the Jewish expectation of the coming Messiah; Jesus himself is divine, equal to the Father. Jesus also tells us that when we trust God the Father, and we trust Jesus, it is like a balm for our troubled hearts.
One important theme that emerges in Scripture about trusting God is the promise of restoration: we are to trust that God will make all things right in the end.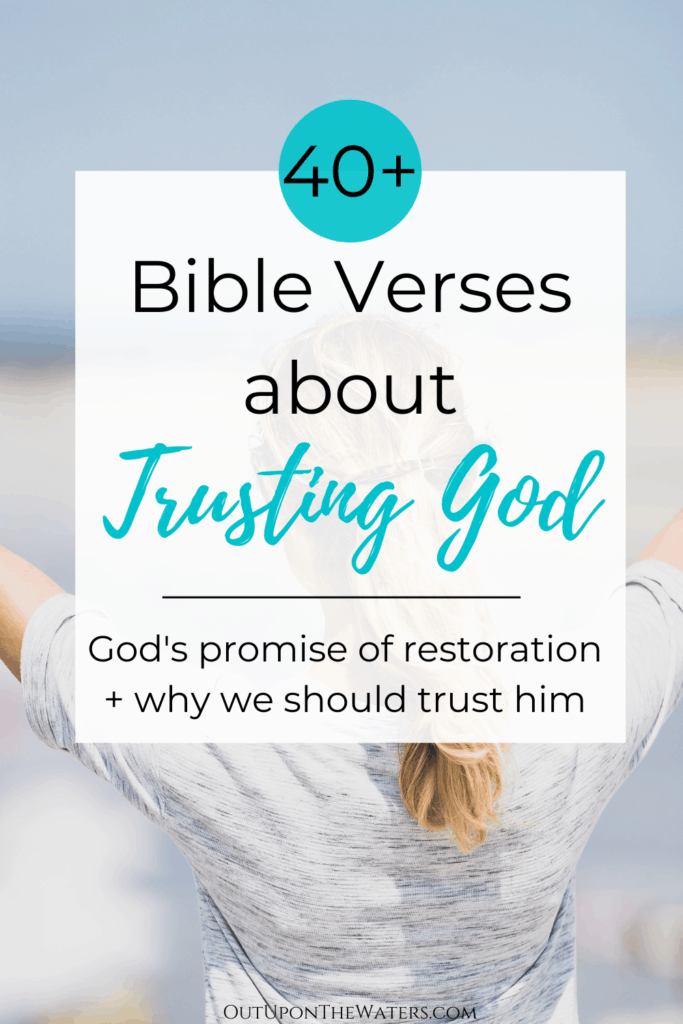 Bible Verses about Trusting God
There are so many verses in the Bible about trust, and about trusting God specifically. Here are a collection of Bible verses about trusting God from the New Testament and the Old Testament, including a collection of verses just from the Psalms.
New Testament Bible Verses about Trusting God
The Bible verses about trust in the New Testament assure us that God is in control and that we can place our trust in Jesus.
"Therefore I tell you, do not worry about your life, what you will eat or drink; or about your body, what you will wear. Is not life more than food, and the body more than clothes?" – Matthew 6:25
"Do not be anxious about anything, but in every situation, by prayer and petition, with thanksgiving, present your requests to God." – Philippians 4:7
"May the God of hope fill you with all joy and peace as you trust in him, so that you may overflow with hope by the power of the Holy Spirit." – Romans 15:13
"Jesus Christ is the same yesterday and today and forever." – Hebrews 13:8
"Look at the birds of the air; they do not sow or reap or store away in barns, and yet your heavenly Father feeds them. Are you not much more valuable than they?" – Matthew 6:26
"But overhearing what they said, Jesus said to the ruler of the synagogue, 'Do not fear, only believe.'" – Mark 5:36
"So we say with confidence,
'The Lord is my helper; I will not be afraid.
What can mere mortals do to me?'" – Hebrews 13:6
"And we know that in all things God works for the good of those who love him, who have been called according to his purpose." – Romans 8:28
"This is the confidence we have in approaching God: that if we ask anything according to his will, he hears us." – 1 John 5:14
"Cast all your anxiety on him because he cares for you." – 1 Peter 5:7
"Beloved, never avenge yourselves, but leave it to the wrath of God, for it is written, 'Vengeance is mine, I will repay, says the Lord.'" – Romans 12:19
"Keep your lives free from the love of money and be content with what you have, because God has said, 'Never will I leave you; never will I forsake you.'" – Hebrews 13:5
"The thief comes only to steal and kill and destroy. I came that they may have life and have it abundantly." – John 10:10
"Let not your hearts be troubled. Believe in God; believe also in me." – John 14:1
"He who was seated on the throne said, 'I am making everything new!' Then he said, 'Write this down, for these words are trustworthy and true.'" – Revelation 21:5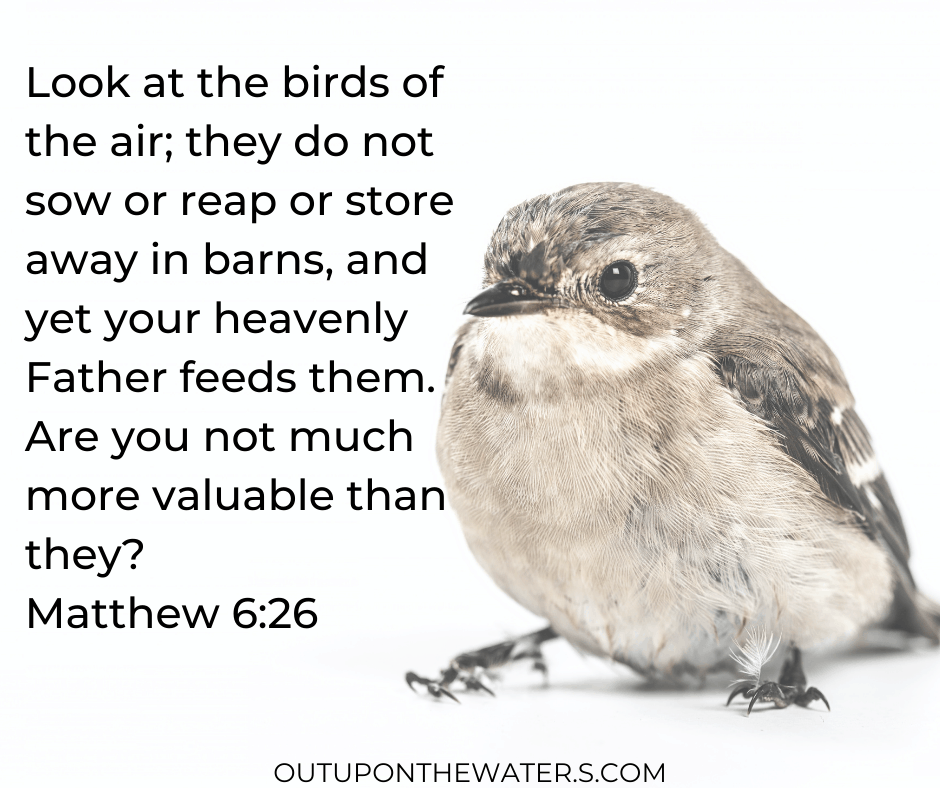 Bible Verses about Trusting God in the Old Testament
The Scripture about trusting God that we find in the Old Testament assures us that God will bring salvation and that we can trust in him. Trusting in God is a wiser choice than trusting in ourselves and worldly things. After all, God knows that whole story, how the world works best, and how everything ends.
"When you pass through the waters,
I will be with you;
and when you pass through the rivers,
they will not sweep over you.
When you walk through the fire,
you will not be burned;
the flames will not set you ablaze." – Isaiah 43:2
"But blessed is the one who trusts in the Lord,
whose confidence is in him.
They will be like a tree planted by the water
that sends out its roots by the stream.
It does not fear when heat comes;
its leaves are always green.
It has no worries in a year of drought
and never fails to bear fruit." – Jeremiah 17:7-8
"Trust in the Lord with all your heart
and lean not on your own understanding;
in all your ways submit to him,
and he will make your paths straight." – Proverbs 3:5-6
"Fear of man will prove to be a snare,
but whoever trusts in the Lord is kept safe." – Proverbs 29:25
"You keep him in perfect peace whose mind is stayed on you, because he trusts in you. Trust in the Lord forever, for the Lord God is an everlasting rock." – Isaiah 26:3-4
"For I know the plans I have for you, declares the Lord, plans for welfare and not for evil, to give you a future and a hope." – Jeremiah 29:11
"Have I not commanded you? Be strong and courageous. Do not be afraid; do not be discouraged, for the LORD your God will be with you wherever you go." – Joshua 1:9
"Sovereign LORD, you are God! Your covenant is trustworthy, and you have promised these good things to your servant." – 2 Samuel 7:28
"Those who trust in themselves are fools, but those who walk in wisdom are kept safe." – Proverbs 28:26
"Those who trust in their riches will fall, but the righteous will thrive like a green leaf." – Proverbs 11:28
"But now, this is what the LORD says— he who created you, Jacob, he who formed you, Israel: 'Do not fear, for I have redeemed you; I have summoned you by name; you are mine.'" – Isaiah 43:1
"The king was overjoyed and gave orders to lift Daniel out of the den. And when Daniel was lifted from the den, no wound was found on him, because he had trusted in his God." – Daniel 6:23
"But look, you are trusting in deceptive words that are worthless." – Jeremiah 7:8
"Surely God is my salvation;
    I will trust and not be afraid.
The Lord, the Lord himself, is my strength and my defense;
    he has become my salvation." – Isaiah 12:2
"You will keep in perfect peace
    those whose minds are steadfast,
    because they trust in you." – Isaiah 26:3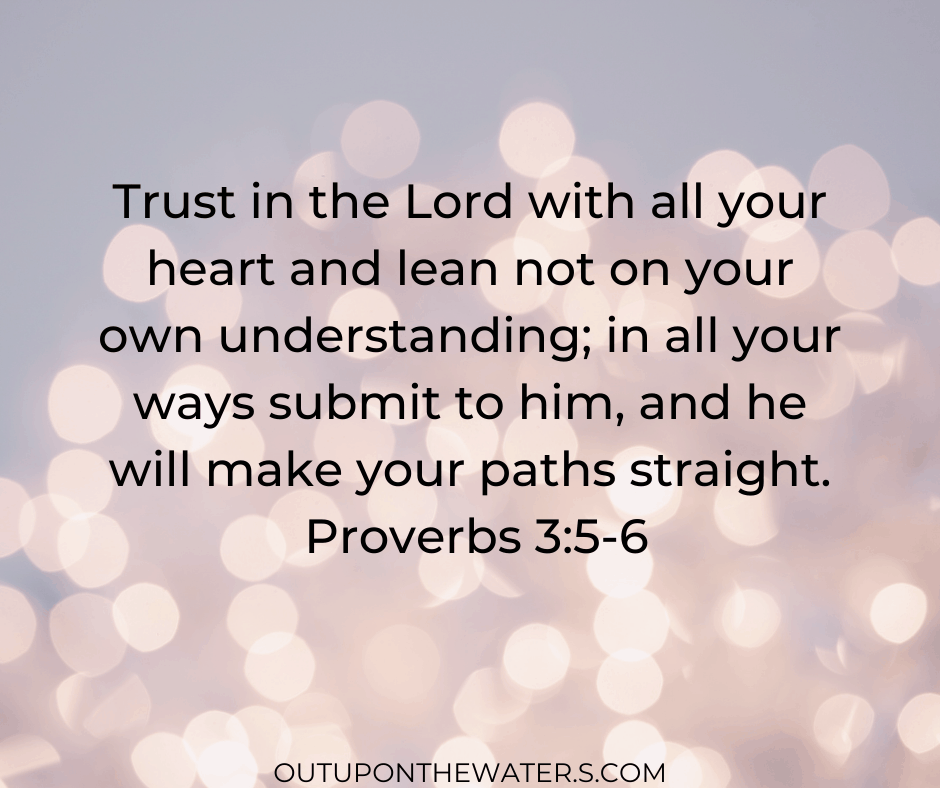 Psalms about Trusting God
There are many psalms about trusting God. A major theme in the psalms is the belief that God will lead us, that he will shelter us, and that he will restore justice and make everything right in the end.
"When I am afraid, I put my trust in you." – Psalm 53:6
"Blessed is the man who makes the LORD his trust, who does not turn to the proud, to those who go astray after a lie!" – Psalm 40:4
"Commit your way to the LORD; trust in him, and he will act." Psalm 37:5
"They will have no fear of bad news; their hearts are steadfast, trusting in the LORD." – Psalm 112:7
"Trust in the LORD and do good;
dwell in the land and enjoy safe pasture." – Psalm 37:3
"Let the morning bring me word of your unfailing love,
for I have put my trust in you.
Show me the way I should go,
for to you I entrust my life." – Psalm 143:8
"My salvation and my honor depend on God;
he is my mighty rock, my refuge." – Psalm 62:7
"Whoever dwells in the shelter of the Most High
will rest in the shadow of the Almighty.
I will say of the LORD, 'He is my refuge and my fortress,
my God, in whom I trust.'" – Psalm 91:1-2
"But I have trusted in your steadfast love; my heart shall rejoice in your salvation." – Psalm 13:5
"He says, 'Be still, and know that I am God; I will be exalted among the nations, I will be exalted in the earth.'" – Psalm 46:10
"Those who know your name trust in you, for you, LORD, have never forsaken those who seek you." – Psalm 9:10
"Some trust in chariots and some in horses, but we trust in the name of the LORD our God." – Psalm 20:7
"But I trust in you, LORD; I say, 'You are my God.'" – Psalm 31:14
"LORD Almighty, blessed is the one who trusts in you." – Psalm 84:12
"It is better to take refuge in the LORD than to trust in humans." – Psalm 118:9
"The LORD is my strength and my shield;
    my heart trusts in him, and he helps me.
My heart leaps for joy,
    and with my song I praise him." – Psalm 28:7