Teaching kids to use positive affirmations is a great way to build self-esteem, strengthen their faith, get them through hard times, and remind them of who God says they are. These Biblical affirmations for kids are based in Scripture and affirm that your child is loved by God, valuable, and capable of great things.
Use these as morning affirmations for kids, as a lesson and activity at school or children's church, or throughout your day at home as a reminder of God's love and his grace.
Repeating positive affirmations can help to reduce negative thinking, turn negative thoughts into positive thoughts, put small things in perspective, strengthen your child's faith, boost self-confidence, reduce worries and combat anxiety, and remind them that they are a beloved child of God.
Biblical affirmations can also help kids learn about the Bible, fight off attacks of the enemy, learn (and trust) God's promises, and understand how God sees them.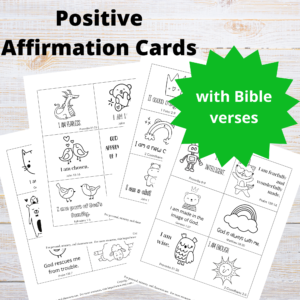 Romans 12:2 says, "Do not conform to the pattern of this world, but be transformed by the renewing of your mind."
By using daily positive affirmations, your kids can be transformed and renew their minds. That's because every habit that we create actually changes our brain! If your child has a habit of focusing on the negative, worrying, or doubting themselves, they have created pathways in their brain that makes that their default way of looking at the world. But by repeatedly exchanging negative thoughts for positive ones, they can change those pathways so that their default way of looking at the world is one of confidence, optimism, and faith.
Here are 48 Biblical affirmations for kids that you can use to remind your children of who God says they are, and that he has great plans for their lives.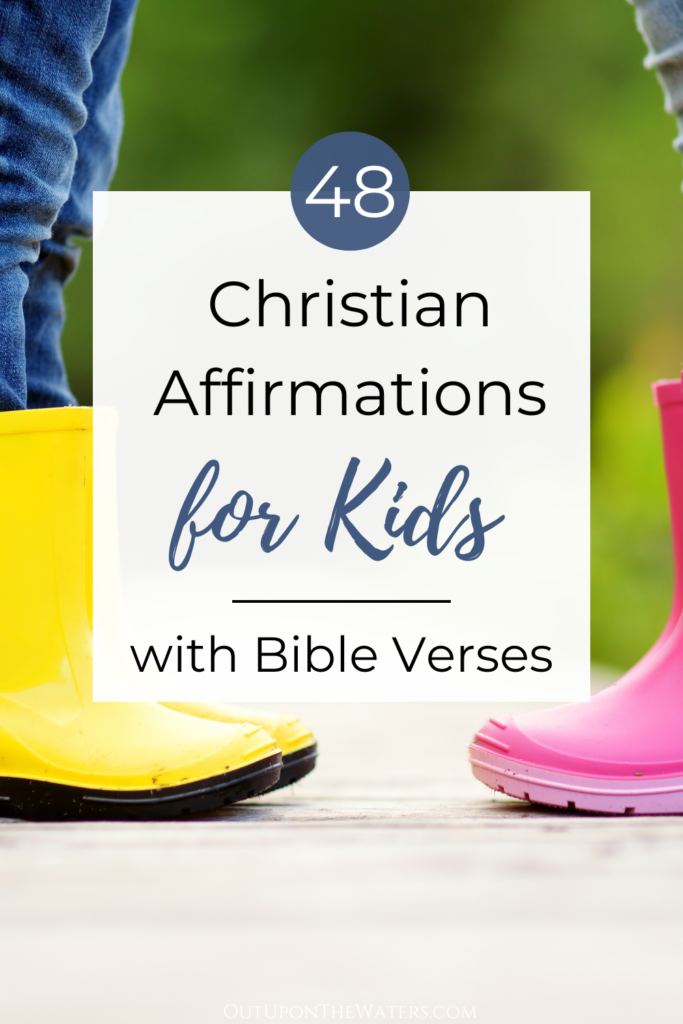 48 Christian Affirmations for Kids
Each of these Biblical affirmations for kids have Bible verses to support them. There are many "I am" affirmations that will teach them who God says they are, as well as other Biblical affirmations about their identity in Christ and God's role in their lives.
I am royalty.
But you are a chosen people, a royal priesthood, a holy nation, God's special possession, that you may declare the praises of him who called you out of darkness into his wonderful light. – 1 Peter 2:9
I am a new creation.
Therefore, if anyone is in Christ, the new creation has come: The old has gone, the new is here! – 2 Corinthians 5:17
I am strong.
Finally, be strong in the Lord and in his mighty power.  Put on the full armor of God, so that you can take your stand against the devil's schemes. – Ephesians 6:10-11
I can do hard things.
I can do all this through Christ who gives me strength. – Philippians 4:13
I am strong and courageous.
Be strong and courageous. Do not be afraid; do not be discouraged, for the Lord your God will be with you wherever you go. – Joshua 1:19
I am a child of God.
Yet to all who did receive him, to those who believed in his name, he gave the right to become children of God. – John 1:12
I am fearfully and wonderfully made.
I praise you because I am fearfully and wonderfully made; your works are wonderful, I know that full well. – Psalm 139:14
I am intelligent.
Instruct the wise and they will be wiser still; teach the righteous and they will add to their learning. – Proverbs 9:9
I am made in the image of God.
So God created mankind in his own image, in the image of God he created them; male and female he created them. – Genesis 1:27
God is always with me.
And surely I am with you always, to the very end of the age. – Matthew 28:20
I am wise.
She speaks with wisdom, and faithful instruction is on her tongue. – Proverbs 31:26
I am enough.
Not that we are competent in ourselves to claim anything for ourselves, but our competence comes from God. – 2 Corinthians 3:5
I am fearless.
She is clothed with strength and dignity, and she laughs without fear of the future. – Proverbs 31:25
I am loved.
For God so loved the world that he gave his one and only Son, that whoever believes in him shall not perish but have eternal life. – John 3:16
I am chosen.
 You did not choose me, but I chose you and appointed you so that you might go and bear fruit—fruit that will last—and so that whatever you ask in my name the Father will give you. – John 15:16
God approves of me.
On the contrary, we speak as those approved by God to be entrusted with the gospel. We are not trying to please people but God, who tests our hearts. – 1 Thessalonians 2:4
I am a part of God's family.
He predestined us for adoption to sonship through Jesus Christ, in accordance with his pleasure and will. – Ephesians 1:5
I am saved.
If you declare with your mouth, "Jesus is Lord," and believe in your heart that God raised him from the dead, you will be saved. For it is with your heart that you believe and are justified, and it is with your mouth that you profess your faith and are saved. – Romans 10:9-10
I am secure.
I give them eternal life, and they shall never perish; no one will snatch them out of my hand. My Father, who has given them to me, is greater than all; no one can snatch them out of my Father's hand. – John 10:28-29
I am safe.
As for me, I call to God, and the Lord saves me. – Psalm 55:16
I am victorious.
But thanks be to God! He gives us the victory through our Lord Jesus Christ. – 1 Corinthians 15:57
I am free.
So if the Son sets you free, you will be free indeed. – John 8:36
I am heard by God.
I love the Lord, for he heard my voice; he heard my cry for mercy. Because he turned his ear to me, I will call on him as long as I live. – Psalm 116:1-2
God has great plans for my life.
For I know the plans I have for you," declares the Lord, "plans to prosper you and not to harm you, plans to give you hope and a future. – Jeremiah 29:11
I am seen.
She gave this name to the Lord who spoke to her: "You are the God who sees me," for she said, "I have now seen the One who sees me." – Genesis 16:13
I am brave.
So do not fear, for I am with you. – Isaiah 41:10
God is my helper.
My help comes from the Lord, the Maker of heaven and earth. – Psalm 121:2
God makes me strong.
In the day when I cried out, You answered me, and made me bold with strength in my soul. – Psalm 138:3
God rescues me from trouble.
Though I walk in the midst of trouble, you will revive me; You will stretch out your hand against the wrath of my enemies, and your right hand will save me. – Psalm 138:7
God heals my wounds.
He heals the brokenhearted and binds up their wounds. – Psalm 147:3
I have all that I need.
The Lord is my shepherd, I lack nothing. – Psalm 23:1
God guides me.
For this God is our God for ever and ever; he will be our guide even to the end. – Psalm 48:14
I am precious to God.
Since you are precious in My sight, you have been honored, And I have loved you. – Isaiah 43:4
God lives in me.
And in him you too are being built together to become a dwelling in which God lives by his Spirit. – Ephesians 2:22
I am valuable.
Look at the birds of the air; they do not sow or reap or store away in barns, and yet your heavenly Father feeds them. Are you not much more valuable than they? – Matthew 6:26
I am a conqueror.
In all these things we are more than conquerors through him who loved us. – Romans 8:37
I am persistent.
Let us not become weary in doing good, for at the proper time we will reap a harvest if we do not give up. – Galatians 6:9
I can give all my worries to God.
Do not be anxious about anything. Instead, in every situation, through prayer and petition with thanksgiving, tell your requests to God. – Philippians 4:6
I am resilient.
We are hard pressed on every side, but not crushed; perplexed, but not in despair; persecuted, but not abandoned; struck down, but not destroyed. – 2 Corinthians 4:8-9
They collapse and fall, but we rise and stand upright. – Psalm 20:8
I am a leader.
Those who are the greatest among you should take the lowest rank, and the leader should be like a servant. – Luke 22:26
I am confident.
Dear friends, if our hearts do not condemn us, we have confidence before God. – 1 John 3:21
do not throw away your confidence, which has a great reward. – Hebrews 10:35
I am forgiven.
Be kind and compassionate to one another, forgiving each other, just as in Christ God forgave you. – Ephesians 4:32
I can forgive others.
Bear with each other and forgive one another if any of you has a grievance against someone. – Colossians 3:13
I trust in God.
Some trust in chariots and some in horses, but we trust in the name of the Lord our God. – Psalm 20:7
All will be well.
And we know that in all things God works for the good of those who love him, who have been called according to his purpose. – Romans 8:28
My future is bright.
You make my life pleasant, and my future is bright. – Psalm 16:6
I am an encourager.
Encourage one another and build each other up – 1 Thessalonians 5:11
I can have peace, even when things are hard.
I have told you these things, so that in me you may have peace. In this world you will have trouble. But take heart! I have overcome the world. – John 16:33
Want to keep these positive affirmations handy? Pick up a set of printable positive affirmations for Christian kids right here. These are perfect for coloring, or for printing on colored card stock as an ink saver.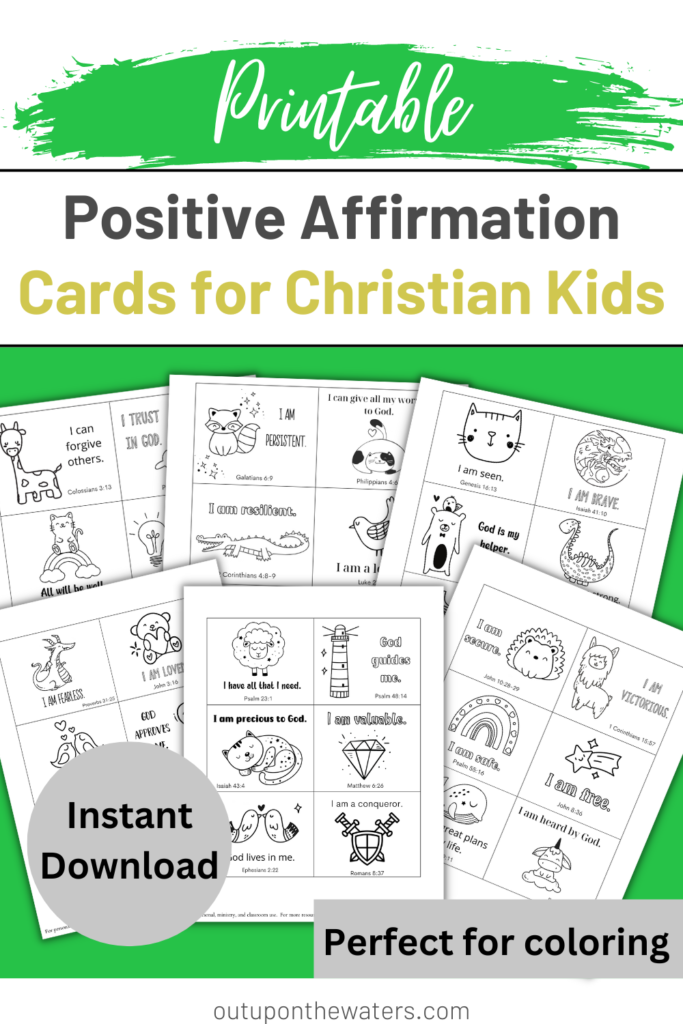 How to Use Positive Affirmations for Christian Kids
Print out your positive affirmations with Bible verses.
Store them in a small box or an envelope; or laminate them (if they are printed on card stock), hole punch them, and put them on a key ring.
Choose one affirmation to focus on. Your child might want to pick one per day, or one per week. Choose whatever feels right.
Post the affirmation somewhere where your child will see it every day, like on the bathroom mirror or in another prominent place in your house. (We have a bulletin board that we would hang these on in the kitchen.)
Encourage your child to say the affirmation every time they see it, especially out loud.
You can also use each positive affirmation as a discussion prompt. Look up the Bible verse and talk about why that affirmation is true about your child and what the Bible verse means.
Want even more affirmations? Be sure to check out 52 Biblical Affirmations to Remind You of Who God Says You Are.