Building a Bible story with Lego is a great way to engage kids in Scripture. The goal of this activity is to tell a story and ask the kids some questions about the story. While you are doing this, encourage them to build something that catches their attention from the story.
We did this activity using the story of David and Goliath and it was a huge hit with the kids.  They used a dragon for Goliath and they built nearly the whole battle scene (minus the armies of soldiers, but including the army camp and the sheep backstory).
Disclaimer: This post contains affiliate links.  Using these links means I may earn a percentage of the purchase at no extra cost to you. As an amazon associate, I receive a percentage of qualifying purchases. View our disclosure policy here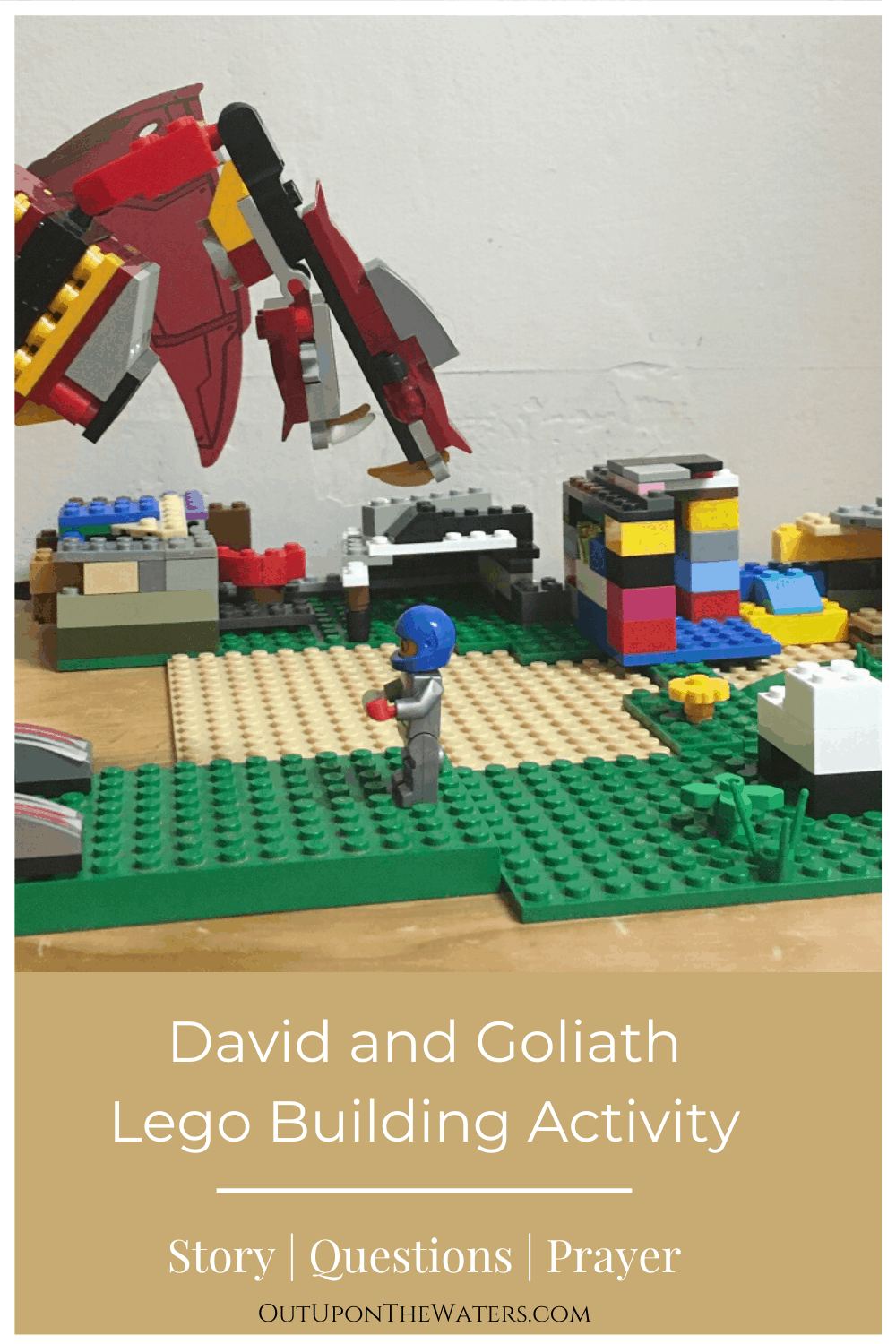 How to Lead a Lego Bible Building Session
Leading a Lego Bible building session is really quite simple.  There are 3 main parts to this Lego activity:
Tell the story.
Ask some questions.
Close in prayer.
This is important: have the kids build WHILE you are telling the story and asking them questions.  This helps with attention span.  If their hands are busy, they are often more able to listen without the distraction of squirming around and fiddling with other things.
The question period is where a lot of the theological and life reflection comes in.  I'm always amazed at what comes out of my kids' mouths at this point.  Sometimes they've absorbed lessons quite well and made kind-of astounding connections that I wouldn't expect.
During our David and Goliath activity, for example, one of my 7 year olds said, unprompted, "It's like God is the shepherd and the Israelites are the sheep"  (with respect to the backstory of David defending his sheep from wolves and bears).  Holy smokes!  That's exactly right.  And I would not have expected it out of my kid's mouth.
If you want more of these Lego Faith Building sessions, be sure to pick up Building Faith, Brick by Brick.  This book contains dozens of Bible stories, and includes questions, building prompts, facts about the context and background of the story, and themed snacks for each story.  This is a great way to turn a Lego Faith Building session into a whole family event.  (Perfect for churches and for home!)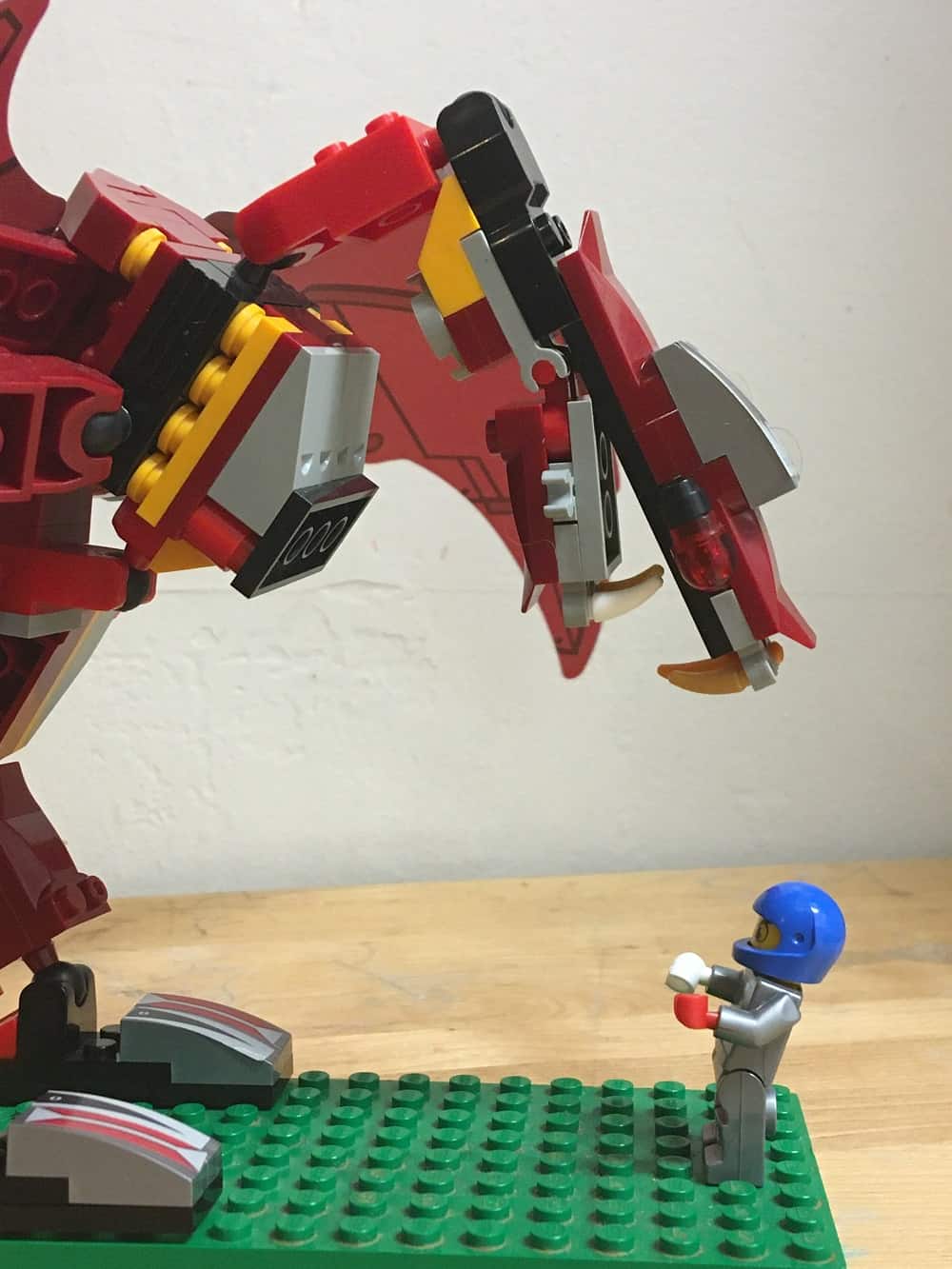 Before you even begin your story:
Make sure you have a pile of Lego in the center of the table (or floor).
Tell the kids that you are going to be telling them a story, and that you want them to build something that they hear in the story, or something that they imagine happening in the story.
1. Tell the story: David and Goliath
You can find the David and Goliath story in 1 Samuel 17:1-58.  Depending on the age and attention span of your kids, you may want to:
Read the story of David and Goliath from the Bible.  (This story is long and requires some attention. We use the NIrV for Early Readers, which gives you the entire Biblical text but puts it into language that kids can understand.)
Read the story from a children's Bible.  (This is our favourite children's Bible.  The David and Goliath story is condensed and told in a kid-friendly way, i.e. for short attention spans and a limited vocabulary.)
Retell the story.  (Learn the story and retell it.  Add some detail, condense some parts.  A retelling can help keep the attention of little ears.)
When we tried this activity, my husband read 1 Samuel 17:1-58 – the whole thing!  I must admit, even I zoned out in places.
The benefit of reading the whole, long story, though was that it gave us a lot of time to build, and my kids picked out parts of the story that stood out to them.
After the reading of the David and Goliath story from a "regular" Bible, I read the story in BibleForce, my boys' favourite Bible graphic novel.  That strategy worked well, because they built most of their structures during the first reading, and the BibleForce reading reinforced the story quickly (and with pictures!)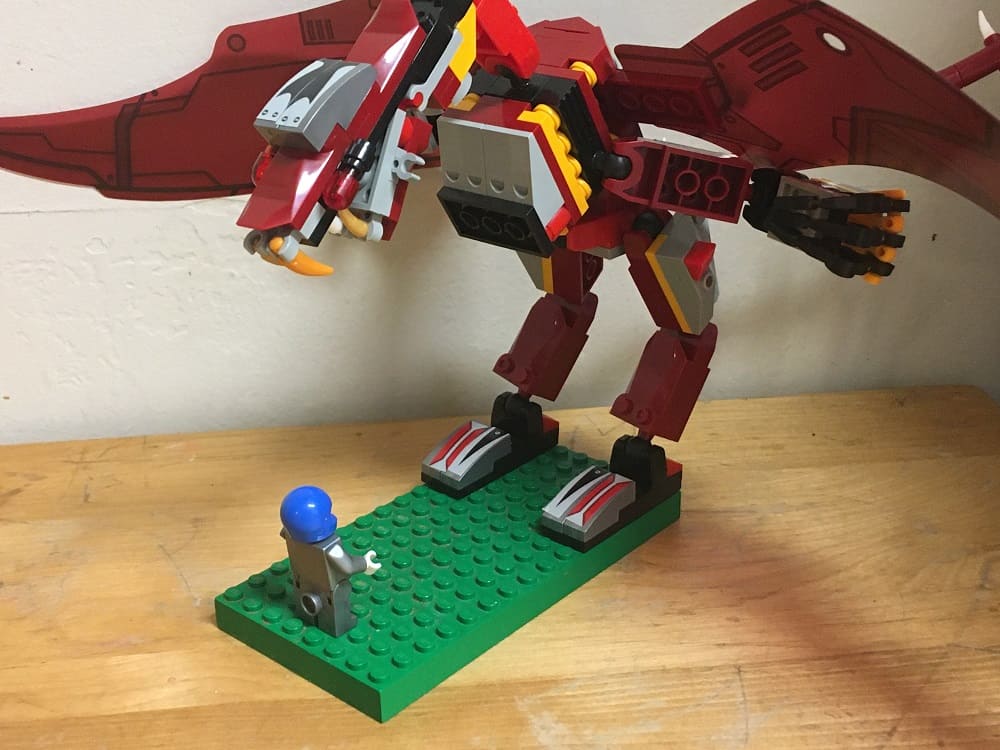 2. Ask Questions
The question part of the activity is totally my favourite!  I love the things that my kids come up with.
Sometimes it highlights parts in their faith that may be lacking.  (Like do you think that God really knows you?  My kids answered "no" to this one, which was helpful to know.)
Sometimes it reveals strengths in their faith that surprise you.  (When one of my kids compared God to David the shepherd and the Israelites to the sheep he rescued from wolves.)
I found, quite quickly, that framing these questions as an "I wonder…" leaves it much more open ended.  This wondering doesn't position the person asking the questions as the one with all the answers.  It lets the kids come up with their own answers and wonder along with you.
Note: you certainly don't have to ask all of these questions in one session.  You can run this session more than once with the same set of kids and change up the questions.  You can also add more questions as they come to you.
I wonder why God chose David to be the leader?
I wonder how David felt when he was chosen?
I wonder if you've ever been chosen for something special?
I wonder if you're ever been chosen to be the leader?
I wonder how you felt being the leader?
I wonder what Goliath sounded like when he spoke?
I wonder if the Philistines were afraid of him too?
I wonder how it would feel to wear armor far too big for you?
I wonder if David was afraid when he went to fight Goliath?
I wonder if you have ever been afraid of someone different than you?
I wonder if you can think of a time when you had to be very brave?
I wonder if anyone has ever thought that you were too small or too young to do something?
I wonder if you have ever known for certain that God would protect you?
I wonder if there is ever a good reason to fight?
3. Close with a Prayer
God of power and mercy, thank you for your care and protection.  Make us strong and brave when we face things that frighten or intimidate us.  Help us to protect others just as you protect us.  Amen.