The 5 finger prayer (made popular by Pope Francis) is a great prayer to pray on your own, or with the kids in your life. This simple prayer method acts as a visual aid that helps us remember who to pray for. It's also a great way to teach young children how to pray.
And to be honest, the 5 finger prayer method isn't just for kids. How often do we all get into prayer habits, where we consistently pray for certain people? Getting into a habit of praying for the same people all the time can be a great thing, but it also means that we might forget certain people who need our prayer. The 5 finger prayer method helps to categorize people, and it can act as a reminder to pray not just for friends and family, but for those in leadership, for our pastors and those in government, for teachers and coaches, and for the poor and needy.
Use the 5 finger prayer method on your own, if you'd like, or with any of the children in your life. It's a great way to help kids put their prayers for other people into their own words, and it gives them prompts for who to pray for if they get stuck.
Also: make sure to read this whole post. There's a free 5 finger prayer printable at the end.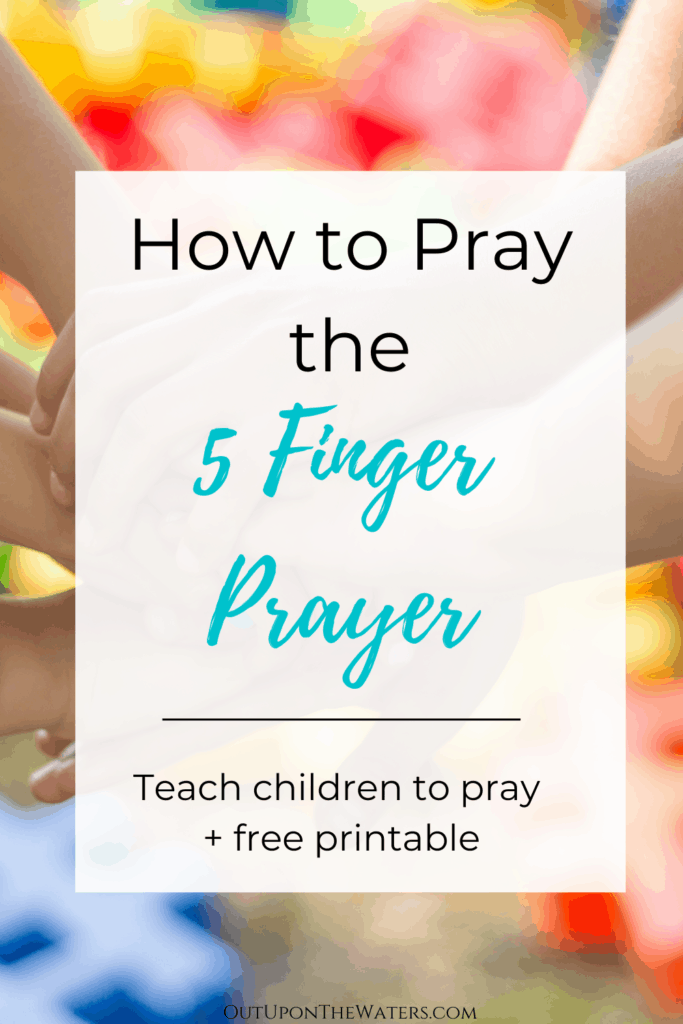 The 5 Finger Prayer
This prayer method is really simple. Each finger represents a group of people for whom you can pray.
You can open your prayer time with "Dear God," or however you normally open prayer. (We usually alternate between "Dear God," and "Hey, God…" depending on how formal – or informal – we are feeling that day.)
As you pray, go through each of the fingers (and thumb) on your hand. Pray for the people those fingers represent.
Thumb: Pray for those closest to you: your family and friends.
Pointer finger: Pray for those who point you in the right direction: your teachers, and other leaders in your life. Pray for wisdom and support.
Middle finger (tallest): Pray for those that lead us: those in government, in business, in church leadership. Pray for guidance and wisdom.
Ring finger (weakest): Pray for those who are poor, sick, in pain, in trouble: those most in need.
Pinkie finger (smallest): Pray for ourselves and out own needs.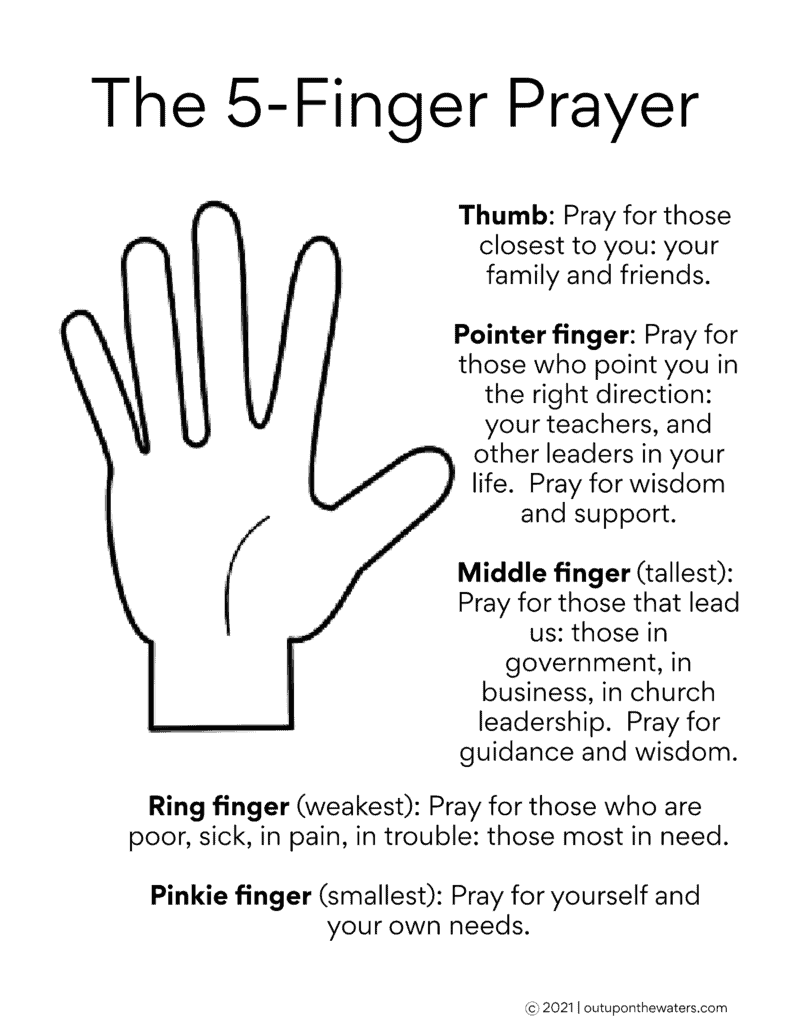 Download your free 5 finger prayer printable here.
Want more prayer methods for kids? Check out the Lego Prayer here. It's one of my favourites.