We made this paper whale puppet for our Jonah and the Whale (actually Jonah and the Big Fish) day at Messy Church.  This is super simple to make, and the little kids loved the fact that you can chomp with this whale!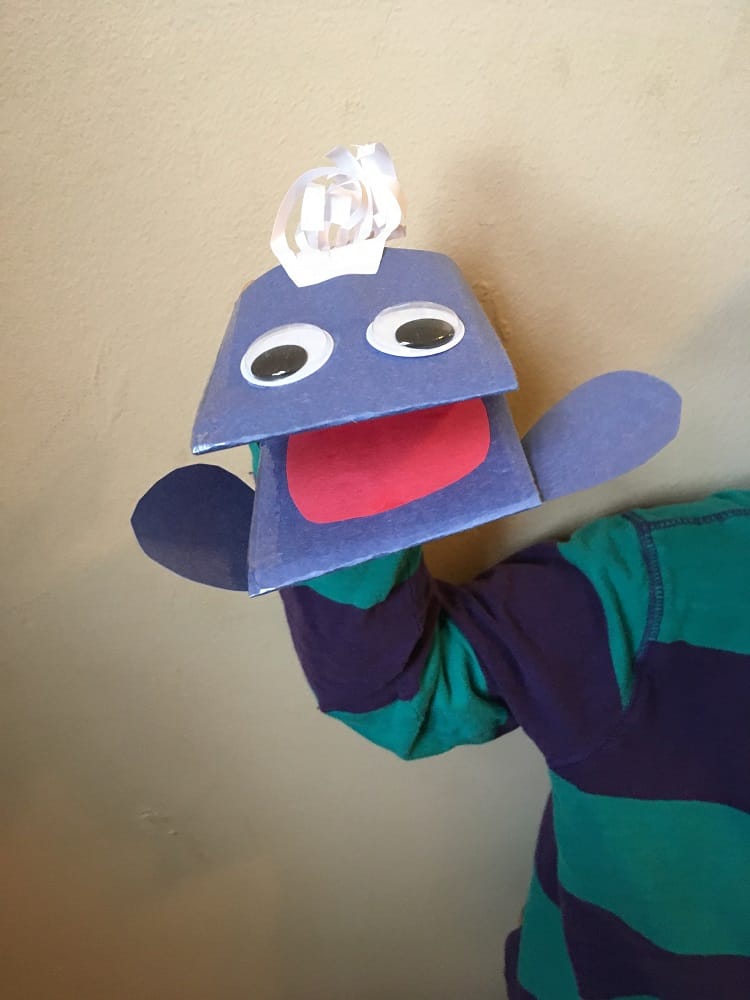 How to Make a Paper Whale Puppet
Making this paper Jonah and the whale puppet was super simple once we got the basic paper hand puppet template down.
To turn any sheet of construction paper (the average 8.5 x 11 sheets) into a hand puppet, all you have to do is:
Cut 1/3 of the paper lengthwise.
Fold the remaining 2/3 in half lengthwise, and then in half again the other way.
Fold the top and the bottom both towards the center, so that you end up with a square piece  that forms a W shape when you let go of it.  (See the image below for a photo tutorial.)
Tape the long end closed.
That's your basic paper hand puppet.
You can stick your fingers in one end of the paper 'tube' that you just made, and your thumb into the other end.  Then you have the template for a chompy hand puppet.
(See images below for a visual of this.)
To turn your puppet into a whale, just cut out the remaining whale parts:
fins (two teardrop shapes in a color to match your whale)
a spout (a white rectangle, tapered at one end)
the inside of the whale's mouth (a big red or pink oval)
Then get some googly eyes to finish off your whale puppet.
To make the spout:
We cut thin strips most of the way down the piece of white paper making up the spout.  Then we curled each strip around a pencil to make the paper curly.
Glue everything together and – Ta-da! Paper whale hand puppet.