Leading up to Valentine's Day, we did this cool Valentine craft building on 1 Corinthians 13 with the kids.  This makes a great Sunday school craft, small group activity, or rainy (or snowy?) day activity.
We actually did various versions of our 1 Corinthians 13 craft: an adorable construction paper and drawing version with the kids during our intergenerational small group, and then a printable version and a sort of free-form version.  One twin loved turning his heart into a "guy" with arms and legs, and then hanging his hearts off his guy's hands and feet.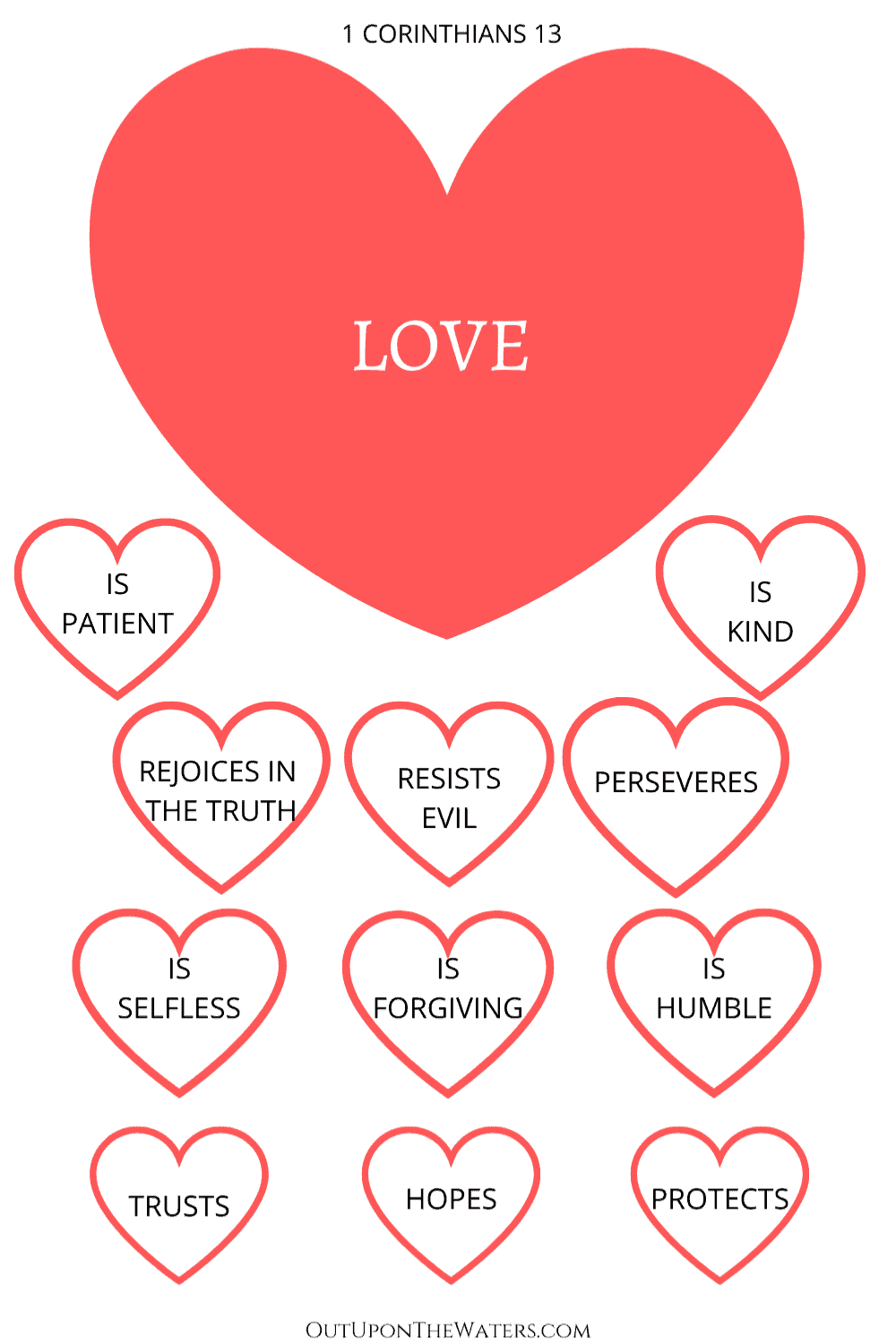 Download your free printable template for the Valentine craft here.
We played around with these hearts in a few different ways.  The mobile version of this Valentine craft is great for slightly older kids.  Having the littles glue the big heart and the little heart onto construction paper is also an excellent preschool activity.
Christian Valentine Craft for Kids: 1 Corinthians 13
We used this craft to talk about love, leading up to Valentine's day, and what love looks like.
I especially love this craft because it encourages kids to think about things like humility, patience, and putting others first, among other things.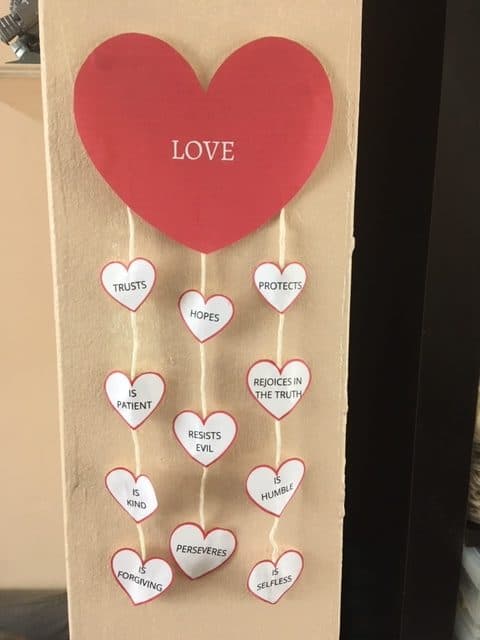 Materials needed
scissors
yarn, string, or jute twine
glue or tape
Instructions
Cut out the hearts from the template (cut them out yourself, or have the kids cut them out with safety scissors to practice their scissor skills).
Tape or glue 3 pieces of string to the back of the big "LOVE" heart.  The piece of string in the center can be slightly shorter than the 2 on the sides.
Tape or glue each of the smaller hearts onto the strings.  There are enough hearts to fir 4 hearts on each side string and 3 hearts in the center, if you want a symmetrical mobile.
Let everything dry, if you've used glue.
Tada!  Valentine's Day mobile complete.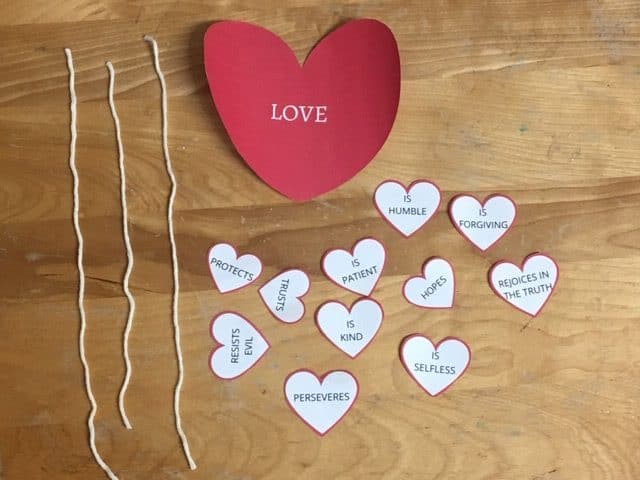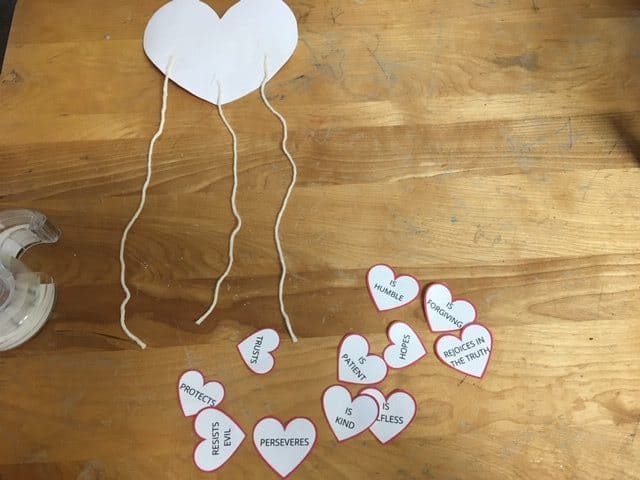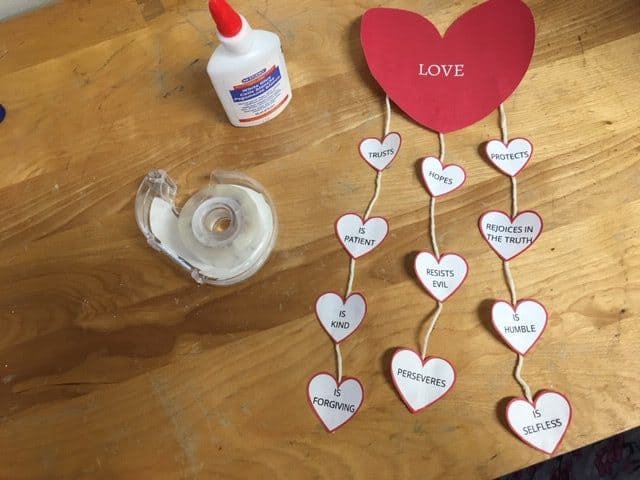 How to turn this craft into a Sunday school lesson or family devotional:
Talk to the kids about what love looks like.  What kind of actions are loving?  Where do they see love in their own lives?  What do they do for others that is loving?
What I especially love about this craft is that it lends itself naturally to talking about the specifically Christian aspects of love: humility, selflessness, rejoicing in the truth…
Questions my kids asked:
What is perseverance?
What does humble mean?
What does it mean to rejoice in the truth?
Love, if we take the Christian story seriously, doesn't just mean being kind to one another.  It also mean being humble: recognizing our own faults, that we aren't perfect, that we are created beings who are dependent on our Creator.  It also means rejoicing in the truth: always trying to be on the side of truth, avoiding lies and falsehoods, and fundamentally about following Jesus because He is the Truth.
With slightly older kids, this also opens up the opportunity to talk about the lies that the world tells us about ourselves: lies like we are defined by our jobs, our accomplishments, how much money we earn, how many new and shiny things we can buy….  Love means calling those lies out for the falsehoods that they are.
Ask the kids about each word.  What does it mean?  Can they think of any examples?  And take the opportunity to dive deeper to any one of the concepts introduced in this passage.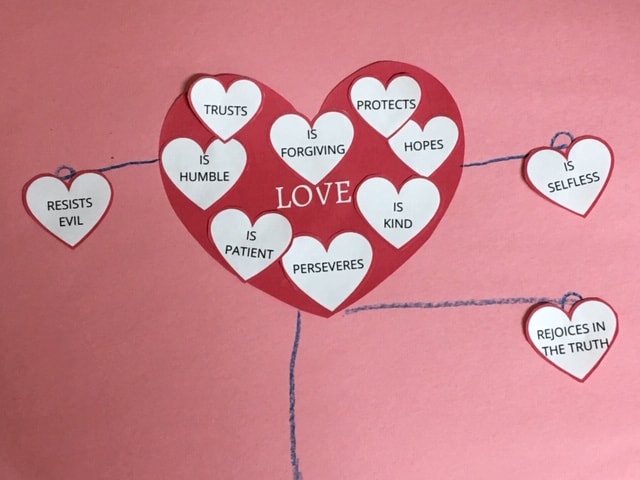 1 Corinthians 13 Craft: Preschool Version
Our original version of this craft relied fairly heavily on fine motor skills.  For the smaller kids, the cut and paste version of this activity is excellent, and it gives them a ton of creative freedom as well.
Materials 
scissors
glue
a piece of construction paper Crayons or markers are optional, and allow for embellishment of the craft.
Instructions
Cut out the hearts from the template (either cut them our yourself, or have the kids cut them out).
Glue the big heart onto a piece of construction paper.
Glue the small hearts onto the paper in any way you want.  Let the kids colour, draw, etc. to embellish their heart craft.
This is where the kids get to exercise quite a bit of creative freedom.
I thought that the little hearts should go all around the big one, but my kid had some other plans.  Actually, his idea turned out to be way more creative than my plans!
He put most of the hearts onto the big heart, and then he turned his big heart into a "guy" by adding arms and legs.  He then pasted the remaining hearts in a way that looked like they were hanging off of the guy's hands and feet.
Then you're done!  Valentine craft complete.
Use this opportunity also to talk to the littles about what love looks like and how our actions can be a reflection of God's love.