The Proverbs 31 Woman is this funny character in the Bible.  Some people love her (because she personifies so much of what is good and beautiful) and some people hate her (because she seems to set unrealistic standards for the rest of us).
The Proverbs 31 Woman doesn't have to be seen as a standard to live up to, however.  She can, rather, be read as a example of how God values the mundane and seemingly invisible tasks of motherhood that often get overlooked.
Throughout the Bible, we see many examples of women doing great and courageous things.
Mary, the mother of Jesus, literally carriers the Son of God in her womb and changes the course of all human history.
Ruth, after her own husband dies, gives up everything to to care for her widowed mother-in-law.  She ends up marrying Boaz, who "redeems" the family, and she gives gives birth to a son who is in the lineage of Jesus Christ.
Ester becomes Queen and rescues the Jews from mass slaughter.
The two Marys (Mary Magdalene and "the other Mary") are present at the empty tomb after Jesus' death and resurrection.  They are tasked with going to tell the apostles that Jesus has risen, and they in effect become the first evangelists and are the first to be responsible for spreading the Good News.
What I really love about Proverbs 31 is that, amidst the women who do big, scary things that change the course of history, this passage glorifies the baking of bread and the changing of diapers.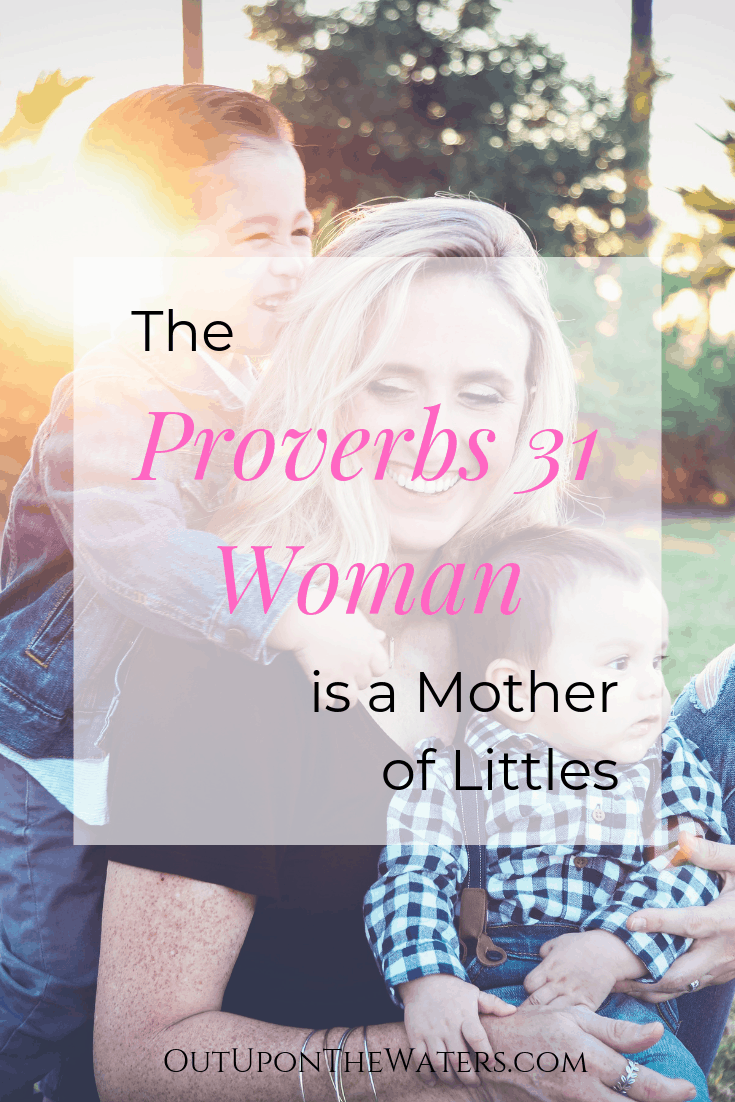 What the Proverbs 31 Woman Does
If we make a list of all the things that the Proverbs 31 woman does, we can see that this can easily be a list of all the things that mothers do – especially mothers of small children – on a daily basis.
She buys wool and flax and spins it into yarn (v 13).
She buys the groceries (v 14).
She gets up before dawn to make breakfast (v 15).
While making breakfast, I bet she packs school lunches too.
She organizes the whole family's day (v 15).
I bet if this were written in the 21st century, it would say "she organizes play dates, shuttles the kids to soccer practice, and co-ordinates her husband's work schedule with their social commitments".
She buys things that will benefit her family and contributes to the family's income (v 16).
She gardens (v 16).
She works late into the night (v 18).
I don't know about you, but my five year olds go to sleep pretty early.  I bet they think that Mommy works super late every night and never sleeps.
She volunteers to help the needy (v 20).
She mends clothing and makes bed sheets (vv 19, 21).
She dresses well (v 22).
Here (v 22) it says that she "dresses in fine linens and purple gowns".  She isn't afraid to spend a bit of time and money on herself.
I feel like this is more about self-care than about looking good: the Proverbs 31 Woman knows that she needs to prioritize her own well-being in order to be able to care for her family.  Maybe that's wearing nice clothes every once in a while.  Maybe it's about having one outfit that isn't marker- and coffee-stained.  Maybe it's about taking 10 minutes out each day to read a book all by herself.
Her husband is well known at the city gates (v 23).
I find this one kind of funny.  Funny only once you've become really comfortable in your less-prestigious role, and realize that you are indeed an adopted child of God, and that fancy suits and sports cars and extravagant incomes don't make the man (or woman)….
People think her husband is really important.  If you're a stay-at-home mom, or a work-part-time mom, or sometimes even just a woman and not the man of the household, can you relate to this?
Her husband gets all the attention.  He's so important, so well known.  People think he's so hard working and congratulate him on being just all-around awesome.  And maybe he really is incredibly hard-working and all-around awesome.
Meanwhile, she's at home, getting up before dawn to bake bread, running after the kids, sewing bed sheets….
Sometimes the hardest work, and the most valuable work (vv 28-31), is the work that nobody sees.
She makes crafts to sell (v 24).
Church bazaar, anyone?
She doesn't worry about the future (v 25).
Clearly this woman trusts God far more than I do.  I know that he's got this, but deep inside, I'm usually panicking.
She is kind and wise (v 26).
You have to be when your kids are hitting each other over the head with toys and screaming about who gets to open the door to the house, or pee in the potty first, or pray the loudest.
"She watches everything in her household and suffers nothing from laziness" (v 27).
She does indeed watch over everything in her household.  And this requires a ton of work!  Work that can go unacknowledged, and work that is often taken for granted.
This verse doesn't have to feel like a chastisement if we feel "lazy" in comparison to the Proverbs 31 Woman.  Instead, we can read it as an acknowledgement from God that all the emotional labour of motherhood, all the invisible tasks that need to get done but are rarely acknowledged or rewarded, are important and sometimes exhausting.
God sees you.  And he sees all the work that is required in running a household.  And, no matter how many things that you do (or do not) get done from this list, I feel like at the end of day, God is saying "Well done, good and faithful servant" (Matthew 25:23).
Not a Checklist but a Super Hero Award
If we look at this passage carefully, we get a picture of a woman who is just running a household.
I say "just" running a household, but anyone who has attempted to run one knows that that is more than a full-time job.
It is not a checklist of what to look for in the ideal wife.
It is not something that should be used to say that a really good wife should be able to sew curtains and bake bread and sell teddy bears as a craft market…. Check, check, check.
It is a passage that gives dignity and value to the running of a household, to booking playdates and shuttling kids to baseball practice, to packing lunches and knitting blankets, to changing diapers and being patient with the kids as they scream at each other from across the house.
It is a recognition that you don't have to be a queen, or a warrior, or do something big and impactful that literally changes the course of history to be worthy of praise.
This woman who chases kids around and fixes ripped pants is the most "virtuous and capable woman".  …Even though the people at the city gates think that her husband is the super hero.
God says this, too, is valuable.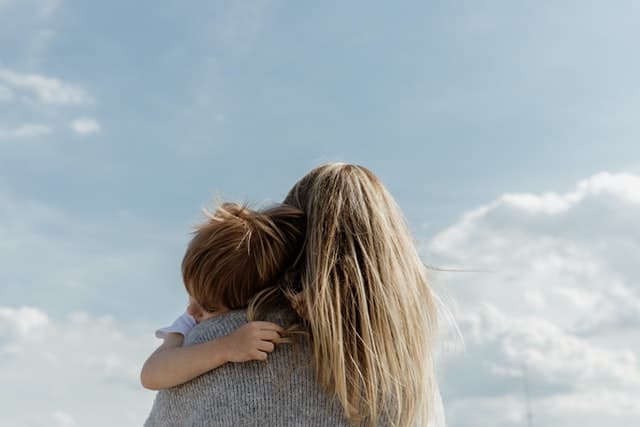 [Disclaimer: This post contains affiliate links.  Using these links means I may earn a percentage of the purchase at no extra cost to you. As an amazon associate, I receive a percentage of qualifying purchases. This helps to support my ministry.  View the full disclosure policy here.]
Proverbs 31 Bible Study Roundup
There are some great Bible study books and devotionals dedicated to Proverbs 31.  Here are some that are well worth reading and re-reading.
You can go through these Proverbs 31 Bible studies on your own or part of a small group.  (I run a women's Bible study at my house weekly and we LOVE doing women in the Bible studies.  While the kids colour – sometimes on themselves – and have water fights.)
Becoming the Woman God Wants Me to Be: A 90-Day Guide to Living the Proverbs 31 Life
Donna Partow has a secret for you–you can be a modern Proverbs 31 woman! In Becoming the Woman God Wants Me to Be, Partow gives you inspiration and practical direction to move you closer to that goal with purpose and passion. During this 90-day journey, you will walk the path toward deepening your relationship with God, living out his will for your life, and taking your faith into the world.
Beautiful in God's Eyes: The Treasures of the Proverbs 31 Woman
What does it mean to be beautiful? Exploring the woman described in Proverbs 31, George paints a vivid picture of the kind of loveliness that can only come from seeking God's will. With practical tips, she'll help you joyfully tackle your daily tasks, find and follow new opportunities, and become a spring of refreshment to others.
Discovering the Treasures of a Godly Woman: A Woman After God's Own Heart Series, Proverbs 31
For many Christian women, the Proverbs 31 woman is a mystery. At first glance she may seem too perfect. But in reality, she was an ordinary woman who made herself available to an extraordinary God–and the results were a tremendous blessing to everyone around her. In this book, Elizabeth George shares how you can let God work through you by: discerning the true priorities in life; cultivating character qualities valued by family and friends; and pursuing excellence in all you do. Yes, it is possible for you to make the treasures of the Proverbs 31 woman real in your life–and become the woman of true beauty and strength that God designed you to be.
Demystifying the Proverbs 31 Woman
In the present day, Proverbs 31 has become a beloved but also misunderstood Scripture passage. Many women look to it for guidance on how to be a better woman, but it must be contextualized in order to be understood and appreciated. Demystifying the Proverbs 31 Woman discusses the passage in terms of language, history, purpose, and application. What shines through is not a prescription for how to become a better wife, mother, woman, or friend, but a description of our Savior, the Church, and ourselves.
This book can be used individually at your own pace or as a group study. Each chapter has the following components: Opening Prayer, Key Terms, Introduction, Date/Authorship/Form, Passage Teachings, and a Conclusion. Questions are interspersed throughout with an Answer Guide in the back of the book with suggested answers
Proverbs 31 in 5 Minutes a Day: A Bible Study for Women
In this Bible study, you'll examine womanhood and faith in Proverbs 31 through commentary, guided prayers, and more. Designed for your busy life, most lessons take just a few minutes and require only a pen and your Bible. The integrated writing space lets you collect your thoughts during Bible study directly in the book-finding more ways to put His love into action.