The pumpkin prayer is such a versatile prayer that you can use in the autumn and around Halloween time. We do a pumpkin carving event at church every year with the young families, and it's a huge hit!  Including the pumpkin prayer as you carve pumpkins with the kids is a great way to get the littles (and the not-so-littles) thinking about Jesus, and not just pumpkin pie and jack-o-lanterns. Here you will find fun pumpkin prayer printables including coloring pages and bookmarks.
You can use the pumpkin prayer to teach kids about the gospel: how God forgives us, redeems us, and makes us into new creatures who shine his light.
Here are some ways to use the pumpkin prayer this autumn and Halloween:
Say the pumpkin prayer each morning or evening or with family devotions during the autumn.
Pair the pumpkin prayer with your pumpkin carving and say the prayer as you carve your jack-o-latern.
Print out the free pumpkin prayer coloring page (below) and give it to your kids.  Hang the finished artwork on the wall, the fridge, etc…
Use the pumpkin prayer in the classroom, Sunday school, or at church.  Print out the coloring page or the bookmarks to send home with kids.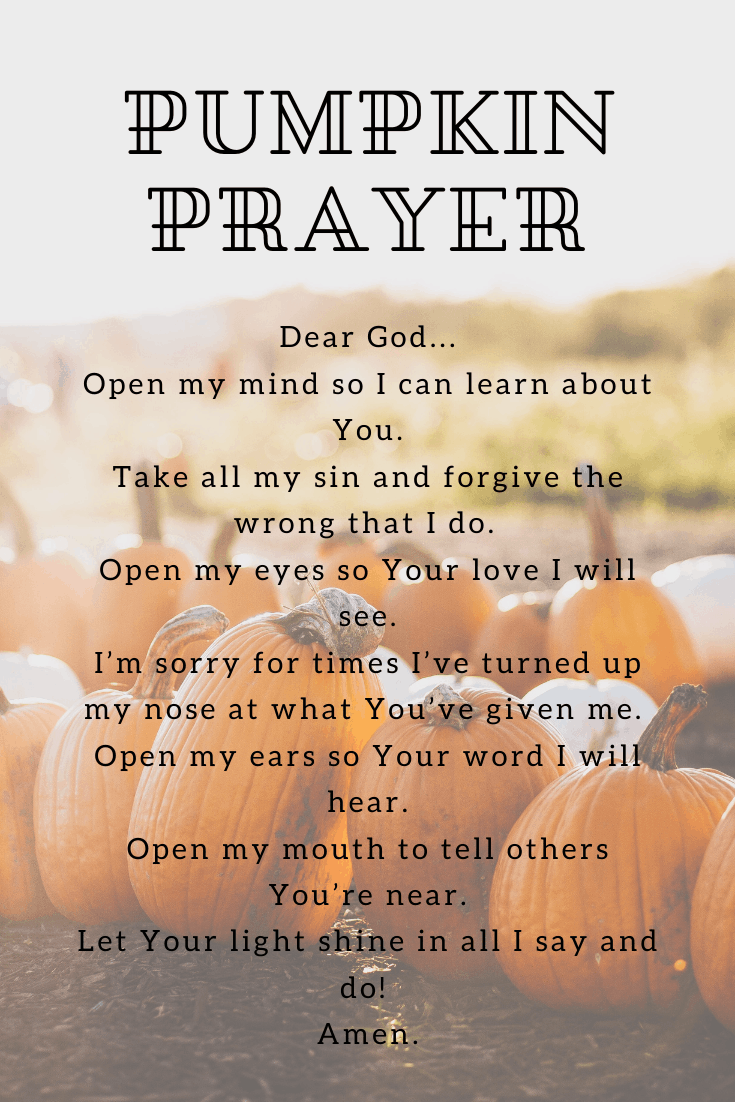 The Pumpkin Prayer
The pumpkin prayer is pretty simple.  It's best done during the pumpkin carving, as you cut out the top, the eyes, the nose, and the mouth of the pumpkin.  But you can also do the pumpkin prayer at the end of your pumpkin carving.  Or you can say the prayer anytime during the autumn, as our thoughts turn from beach trips to falling leaves and pumpkin patches.
Our pumpkin carving church event includes food (Feed them pizza and they will come, right?) so we do this as our before-dinner prayer.  In this setting, I would just pray with the kids, and not worry about the bits of Scripture scattered throughout.
If you're doing this with just a few kids at home, you can easily say parts of the pumpkin prayer as you carve.  You can also read the Scripture references, talk about what they mean, and ask your kids (especially the older ones) how they see this working out in their lives.
The Pumpkin Prayer
Dear God…
Open my mind so I can learn about You.
"Know that the Lord, He is God." (Psalm 100:3)
Take all my sin and forgive the wrong that I do.
"If we confess our sins, He is faithful and just to forgive us…" (1 John 1:9)
 Open my eyes so Your love I will see.
"Open my eyes that I may see wonderful things from your law." (Psalm 119:18)
I'm sorry for times I've turned up my nose at what You've given me.
"…be thankful unto Him, and bless his name." (Psalm 100:4)
Open my ears so Your word I will hear.
"Incline your ear, and come to Me" (Isaiah 55:3)
Open my mouth to tell others You're near.
 "I shall . . . declare the works of the Lord." (Psalm 118:17)
Let Your light shine in all I say and do! Amen.
"Let your light shine before others so they may…glorify your Father in heaven." (Matthew 5:16)
Pumpkin Prayer Bookmarks
These bookmarks are meant to be coloured in by little hands.  They are great for keeping the littles busy (for about 5 minutes) and for reviewing the prayer and the Scripture verses that go with it.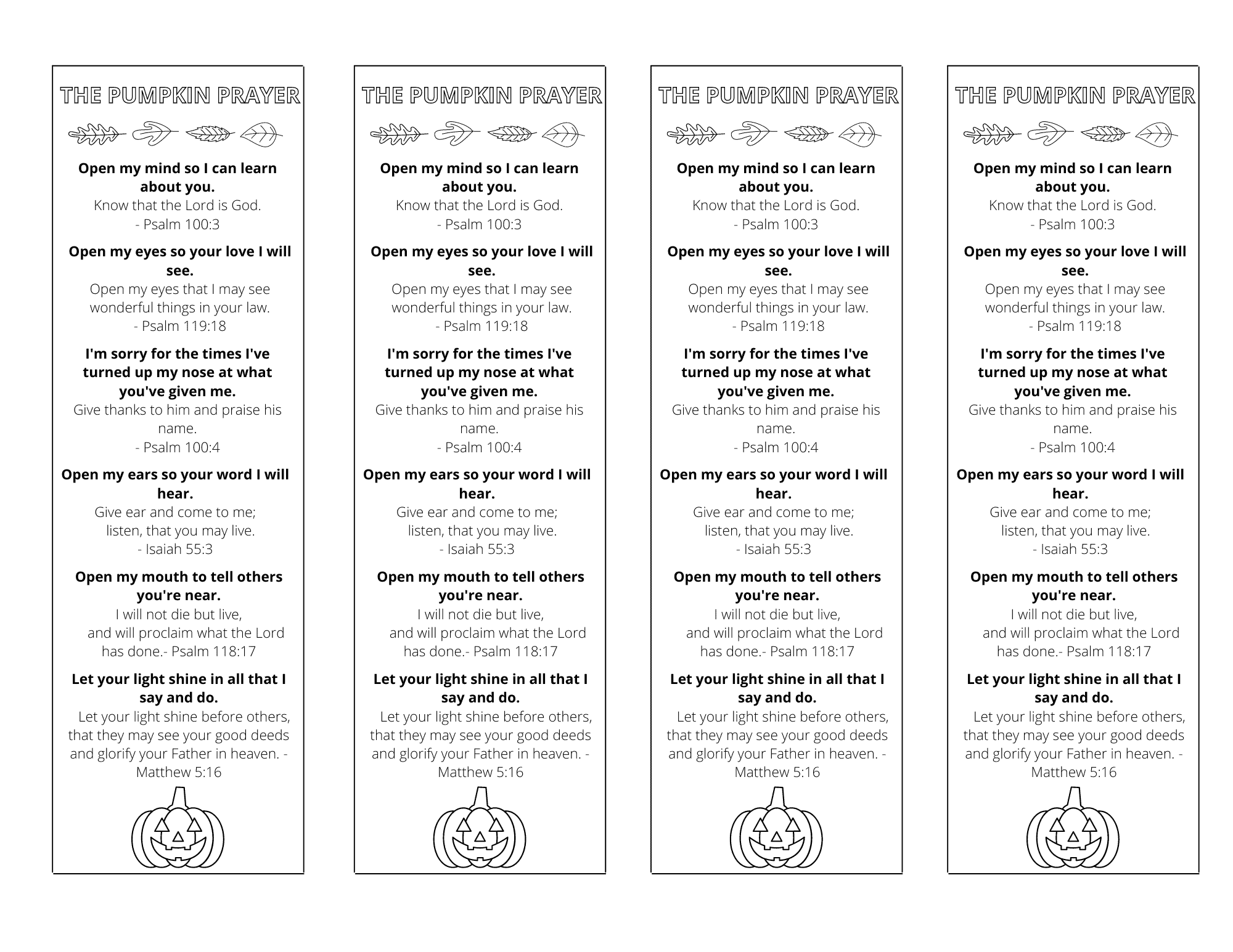 Download your Pumpkin Prayer bookmarks here.
These are free, printable, and made so that the littles can colour them in.
The Pumpkin Prayer Coloring Page
These coloring pages are great to use while carving your pumpkins into jack-o-lanterns.  Use these at home, with friends, at church, or at school.  You can say this prayer as you carve your pumpkins, and it is a great way to teach kids about the Gospel: that God forgives sin, cleans us out, and make us into new creatures who can shine his light in the world.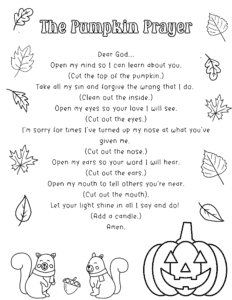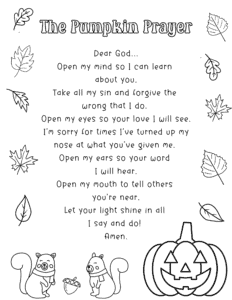 Download your pumpkin prayer coloring pages here.  Includes two full page versions and a smaller version with 4 poems to a page.