Easter is a lot like Christmas: a really big deal both for Christians and non-Christians, full of celebration and sugar, and a time when it's easy to lose sight of Jesus amidst all the bunnies, chocolate egg hunts, and spring chick decorations.  Adding some Christ centered Easter traditions to your family's Easter celebrations is a great way to keep your kids, grandkids – and yourself – grounded in the knowledge and love of Christ amidst sugar and celebration overload.
Disclaimer: This post contains affiliate links, which means that I earn a small commission – at no extra cost to you – if you click on these links.  See our full discloser policy here.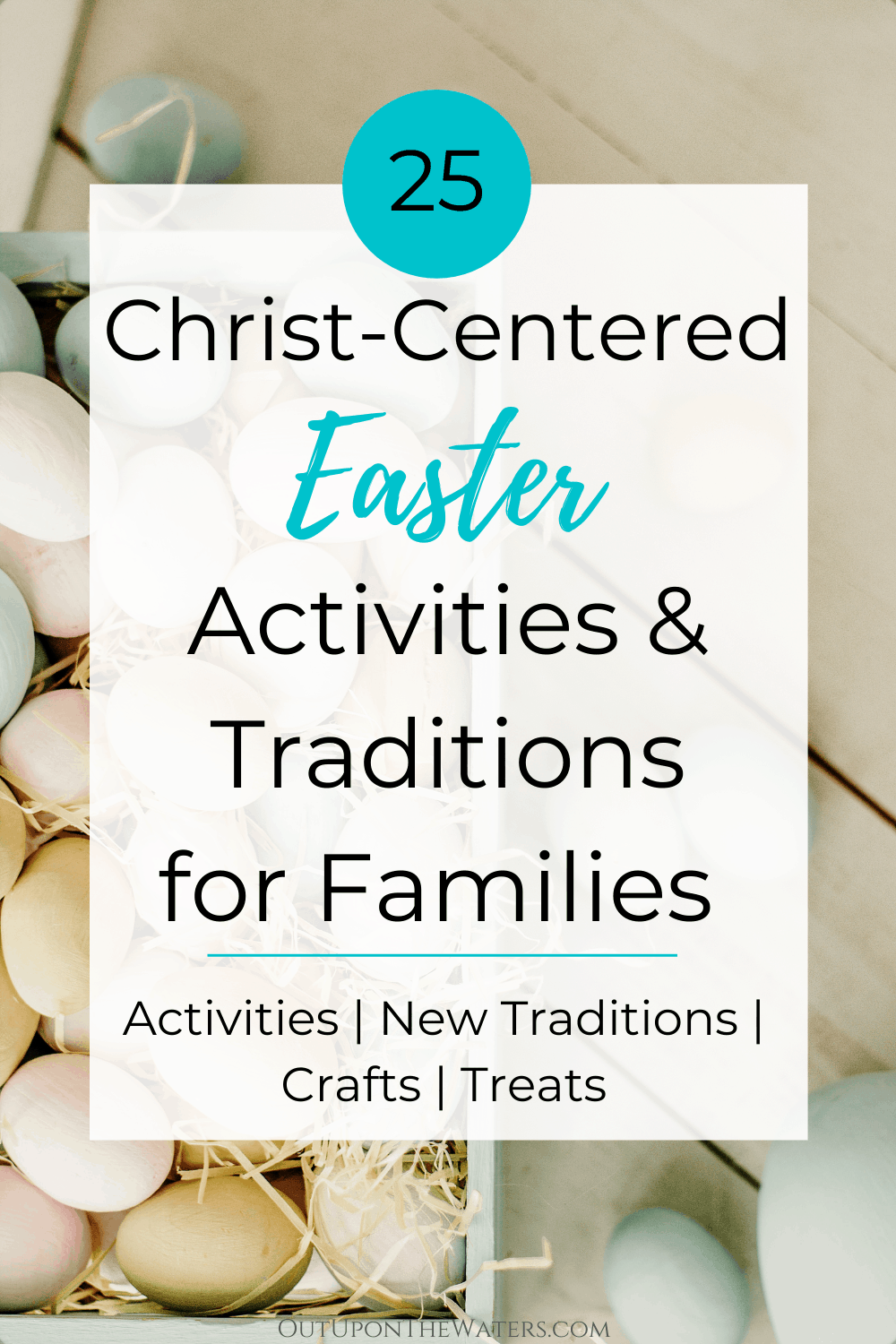 Christ-Centered Easter Family Traditions and Activities
These Easter activities make great traditions to pass on to your kids.  Pick your favourite Easter activity (or a few of them) and make it a regular family Easter tradition.
Hunt for resurrection eggs – You can make your own DIY resurrection eggs, or you can buy a pack of resurrection eggs. If you want printable resurrection eggs, that you can either hide in plastic Easter eggs or laminate and use as is, be sure to pick up a set of printable resurrection eggs here. This includes the eggs and a story/sequencing card for the kids to keep track of the Easter story.
Have an Easter story scavenger hunt – Get the family moving (and reading their Bibles) while hunting for clues from the Easter story around the house.
"Egg" a friend or neighbour's house.  Leave a fun Easter surprise (plastic eggs filled with treats and Easter egg decorations) on a friend or neighbour's front lawn.  This is a super fun Easter tradition that the kids will get excited for year after year.  A great way to spread some love and joy on Easter.
Have a special sunrise Easter breakfast.  Get the whole family up at dawn (It'll be worth it – trust me!) and have a special Easter breakfast while watching the sun rise.  This is the perfect setting for telling the Easter story.  John's account begins with "Early on the first day of the week, while it was still dark, Mary Magdalene went to the tomb and saw that the stone had been removed from the entrance" (John 20:1). What a great opportunity to imagine yourselves back at that first Easter day!
Maundy Thursday foot washing – Get some paint, a bowl of water and a towel, and a giant piece of paper, and have a kid-friend foot washing 'worship' time.  (The Maundy Thursday service at our church is beautiful, deep, and moving.  We like to shake that up a bit by also doing the kid version, which is messy, chaotic fun.  I think that heaven is probably a little bit of both.)
Good Friday nature walk – Use this free printable nature walk notebook page to take the family on a Good Friday adventure.  It has 6 different Bible verses about Good Friday and a corresponding activity to do on your nature walk.
Go on an Easter scavenger hunt in nature – Go on a family Easter walk and find symbols in nature that represent the Easter story.
Make an Easter tree – Teach your kids about the resurrection with this cute Easter tree.  (Just like a Jesse tree at Christmas, only for Easter.)
Print this Biblical Easter activity page – These make great placemats to keep the kids busy at home or at church, or they can be used to supplement an Easter lesson in Sunday School or the classroom.   Includes puzzles, coloring, and printing practice (for small kids) or a reflection question (for older kids).
Tell the story of Jesus' resurrection with Lego – This Lego Empty Tomb activity includes suggestions for telling the Easter story, reflection questions to ask your kids, and a closing prayer. This is perfect for Lego fans!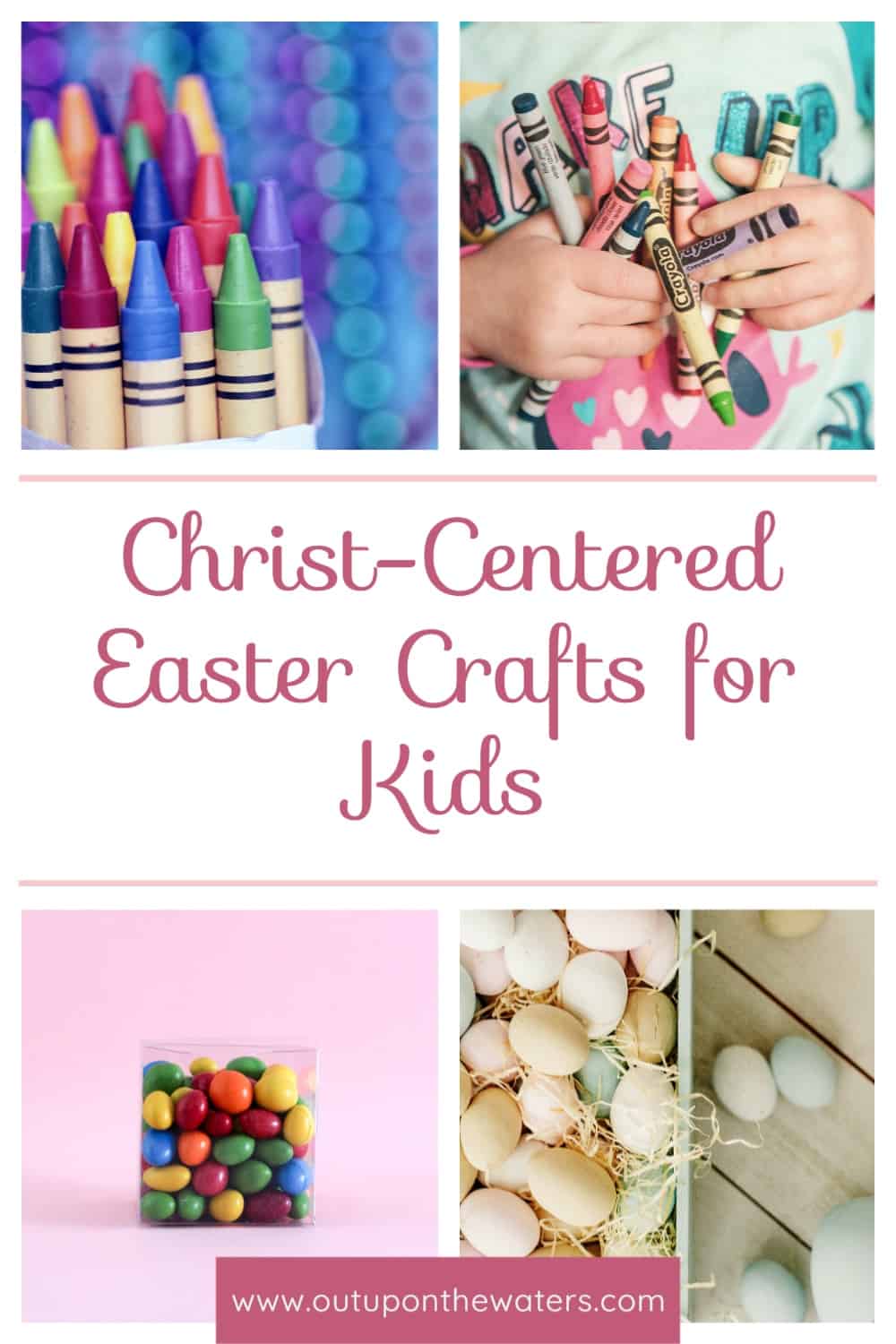 Christ-Centered Easter Crafts
If your kids love to make things, try out one (or more) of these fun Christ-centered Easter crafts to get your kids tangibly involved in telling the Easter story.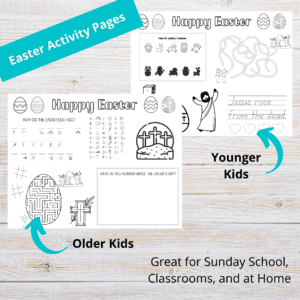 Christ-Centered Easter Treats
These yummy Easter treats are a great way to tell the story of Christ's death and resurrection, and get the kids tangibly engaged in the story.
=> Want to add some great Christ-centered Easter books to your family's collection?  Check out our list of Christian Easter Books for Kids of All Ages.  Cute board books for toddlers and preschoolers, engaging stories for older kids, and even faith-building books for preteens.