Autumn is the perfect time to get your family into a habit of gratitude and thanksgiving. This super simple pumpkin gratitude activity will encourage your family to look for all the little blessings in their lives, and to give thanks in all circumstances.
It's easy to get caught up in all the rotten things in life: times that you fail, times that you're running late for something, your messy living room, your kids' homework, the bills that never stop coming and the dirty dishes that constantly need cleaning…
When we focus on the negative things in life, it's really easy to get discouraged and frustrated.  And it's so much easier to remember that one thing about your day that went wrong, than to remember the dozens of things that went well.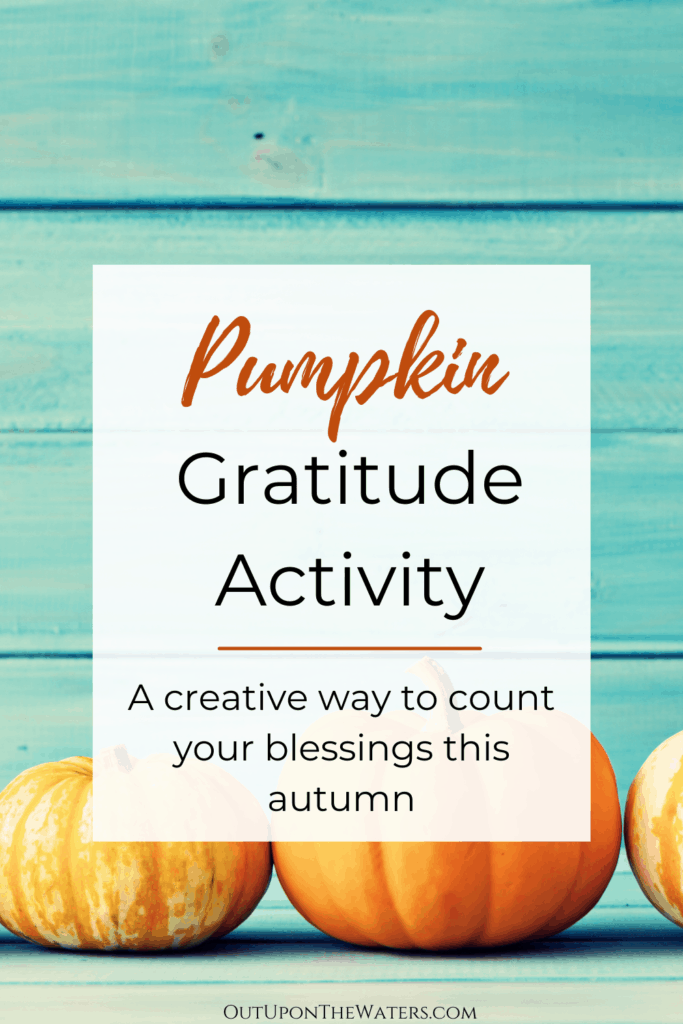 Getting into the habit of giving thanks for one (or more) concrete thing each day will actually help to re-train your brain to focus on all the blessings in your life.
And the truth is, we all have countless blessings in our lives, even in the hard times.
We're encouraged by Scripture to give thanks, as well, and to gives thanks every day, in all circumstances.
Give thanks in all circumstances; for this is God's will for you in Christ Jesus. – 1 Thessalonians 5:18
The fact is that all good things come from God. All good things come into our lives as gifts. And there are countless gifts that we receive each and every day. (Just try keeping track of every single thing in your life that you can be grateful for, and you'll see that you quickly build up an enormous list.)
1 Corinthians 4:7 asks us: What do we have that we did not receive?
Focusing on all the little things that we have to be thankful for will help us to re-train our brains for joy and thanksgiving, and to live our lives with open hands.
Here is one easy and adorable way to help train your family in gratitude and thanksgiving.
Pumpkin Gratitude Activity
I was honestly kind of thrilled with this pumpkin gratitude activity. The kids were into it. It's super simple to do. And it gets them both thinking about all the things in their lives that they can be thankful for, and practicing their hand writing.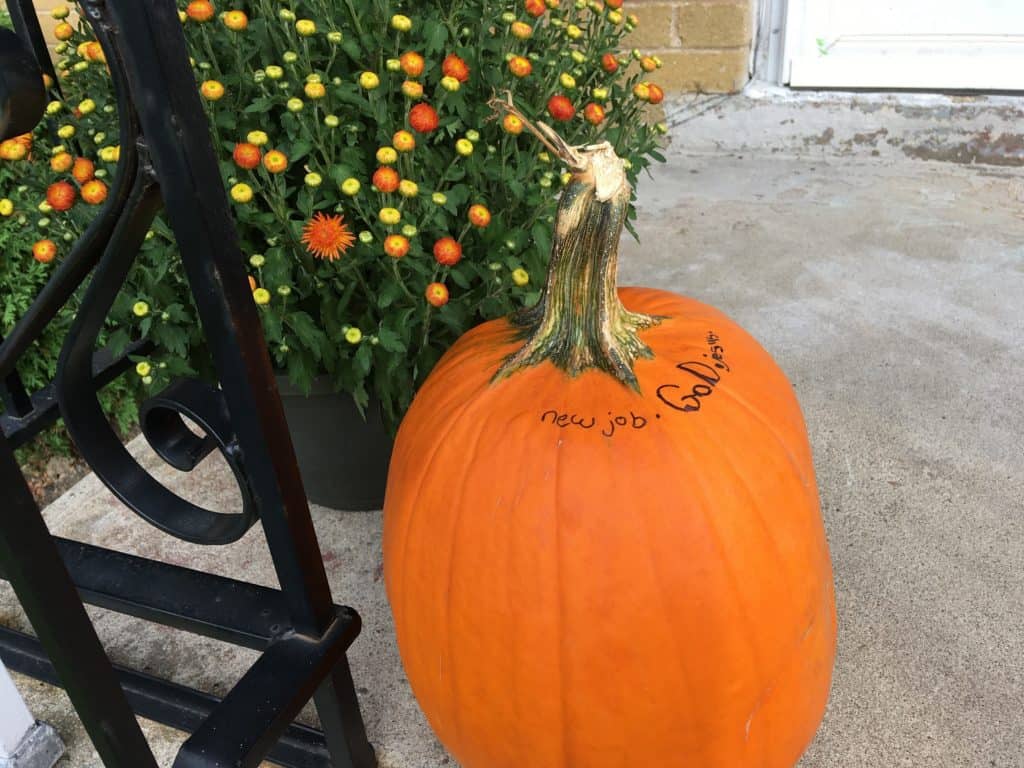 Plus, I thought it was super adorable that the first things they were thankful for were "God" and "Jesus".
How to Turn Your Average Pumpkin into a Gratitude Pumpkin
This activity is super simple. All you need is:
a pumpkin
a sharpie (or other permanent marker)
Put your pumpkin outside on your doorstep (it'll last longer out there in the cool weather).
Each day, write one thing that you are thankful for on your pumpkin. (Be sure to write in permanent marker, so that your record of blessings doesn't get washed away in the rain.)
At the end of the month (or however long you choose to do this for), you will have a whole pumpkin's worth of blessings recorded as a visual reminder of God's grace in your life.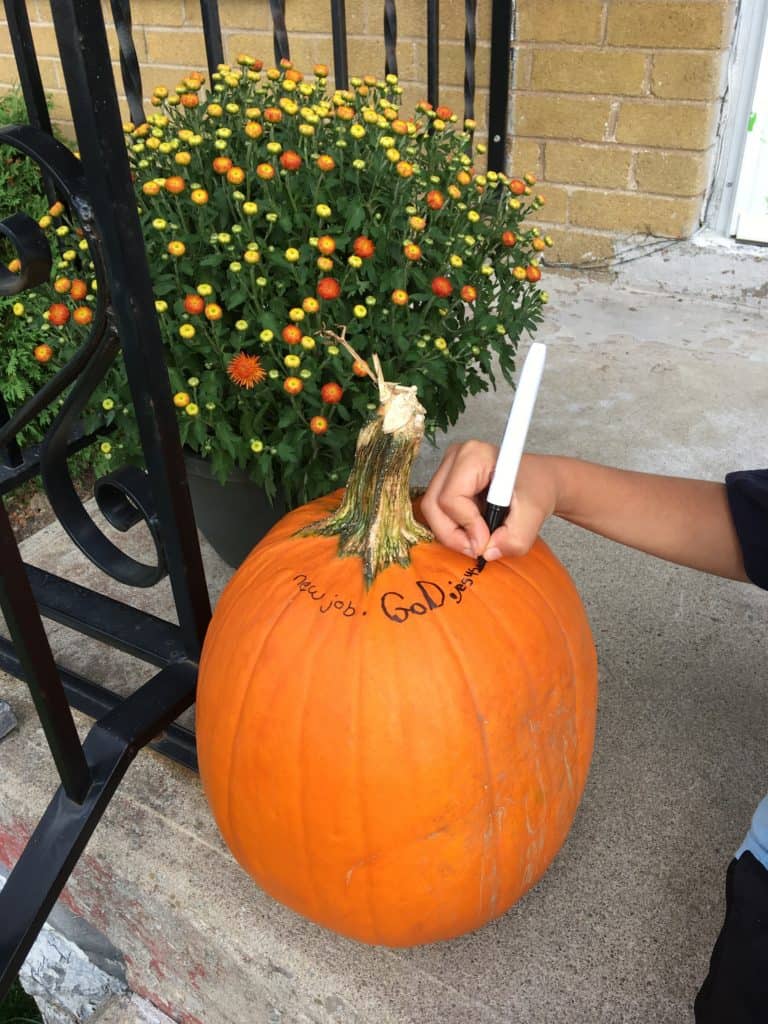 This is a great activity to do in October or November.
For us Canadians, we celebrate Thanksgiving in October, so the kids and I will be starting this activity on October 1st and recording things that we are thankful all month. By Halloween, we'll have a fantastic visual reminder of God's work and blessings in our lives. (We'll be pairing it with some Halloween Bible lessons to talk about finding fulfillment in God, trusting in God, and being beacons of light and love.)
If you celebrate Thanksgiving in November, you can easily do this gratitude activity then.